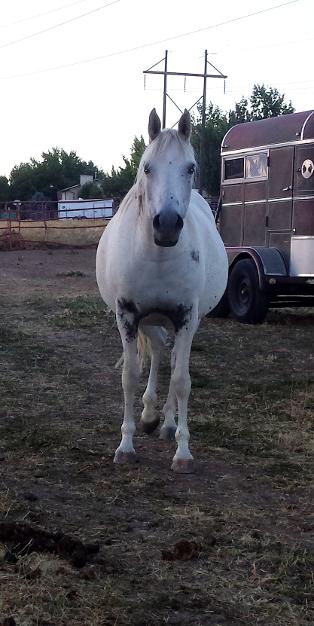 Burtanna
Pedigree Research

Burtanna's sire is the Taylor Ranch Arabians bred stallion TR Hosanna. Taylor Ranch's Arabians have made a large impact on Arabians worldwide. They are known for their outstanding Russian Arabians, many of which are showcased in Burtanna's pedigree. TR Hosanna's sire is the accomplished *Muscat son and Kale bred, Mussiah+. Mussiah+ is a multiple time and multiple Regional winner in Stallion Breeding classes from 1993 to 1995, Legion Of Honor achiever. He was then going under saddle and became a multiple time and multiple Regional winner in Country English Pleasure and Hunter Pleasure from 1995 to 2000. In 1998 & 1999 Mussiah+ was Canadian National Champion Hunter Pleasure JT 14-17 & JO 17 & up Top 10. In 2000 Mussiah+ was US National Champion and Canadian National Champion Hunter Pleasure Top 10 in very large classes. Showing his bloodline's versatility, Mussiah+ then crossed over into Western Pleasure winning in several Regions from the year 2000 to 2002.

Mussiah+'s sire, *Muscat was the first Arabian to win US, Canadian & Scottsdale Champion Stallion (Triple Crown) in the same year, and was full brother to *Moment. His Performance offspring are legendary, winning National & International titles in every discipline from every level of English & Western competition to Reining, Cutting, Dressage & Endurance. *Muscat was the youngest stallion ever utilized for breeding at the world-famous Tersk Stud. The acquisition of *Muscat from the Russians was no easy task as Howard Kale Jr. took over a dozen trips to Tersk and had to trade two of America's finest Standardbred stallions valued at $1 million dollars each for him. When *Muscat was sold to Howard Kale, Jr., the Russians quickly went to Bulgaria to get *Moment back and continue the line at Tersk Stud. *Muscat has achieved legendary status as the main continuer of the Naseem sire line. *Muscat combines the essence and elegance of Naseem with the athleticism and soundness of the Priboj sire line through Malpia a daughter of Mamonna by Ofir.

Mussiah+'s dam is the imported Russian mare and Aswan daughter *Nissa. Burtanna carries 3 lines to Aswan, once through daughter *Nissa, once through daughter *Nariadnaia, and once through daughter *Muzza. All 3 mares were imported from Russia by the breeder Howard Kale. Aswan was born in Egypt and died in 1984 in the Soviet Union. Aswan is 25 % Crabbet. In 1963 Aswan, originally named Raafat by his breeder the EAO, was gifted to Russia in appreciation for Russia's assistance in building the Aswan dam. Aswan made an indelible mark on the mares of the Tersk Stud where he often sired very exotic foals. Those out of the best race mares were also very athletic, of these 21 were Stake Winners and three; Start, Pirit, Parapet were Derby Winners, 19 others were Stake Placed. Aswan sired 184 registered Arabians; among them the Derby winning stallion, Patron 2/23(7-1-6)D+1-0-3, (a three time Dutch National Champion the sire of US, Canadian and Dutch Nat Champion Padron) and *Abdullahhh (the 1981 World Champion Stallion).

TR Hosanna's dam Natasha RA is by the magnificent Russian stallion *Nariadni. "A straight Russian stallion with a superb pedigree that represents the best of Russian breeding. In addition to siring over 500 foals and many champions, *Nariadni was a successful show horse, winning at halter and in English pleasure performance competition. *Nariadni was twice a Regional Top Five and Scottsdale Top Ten. *Nariadni is the son of Tersk Stud sire Nabeg, Arax's best son, who contributed not only excellent confirmation, he added those magnificent big, soft eyes that mirrored his great disposition. *Nariadni's dam Nariadnaia is considered to be one of the most beautiful mares ever bred at Tersk." Taylor Ranch Arabians

Burtanna carries 2 lines to Arax, once through Nabeg and once through Magnolia. Arax was the most significant. He was sent to Tersk in 1958. Sired by Amurath Sahib, out of the Wielki Szlem daughter Angara, he was foaled at the Michalow state stud in Poland in 1952. Arax sired six foals in Poland, the most noted being the US Reserve National Champion mare, Boltonka. Arax was transferred to the Tersk stud when he was six as the result of a trade with Poland for a number of mares. The Tersk stud breeding program would soon prosper with his addition. Arax made an invaluable contribution to the breed by providing superb and totally functional structure. As an individual he was noted for his overall smoothness and balance. Although slightly thick in the throatlatch, Arax's neck was of adequate length, but not as well set on as is currently fashionable. His well-shaped, clean head was highlighted by large, black eyes — traits that uniformly have been hallmarks of this line. Arax was known for his disposition — a prepotent trait in his line of offspring. The Arax linebred horses reflect good working attitudes and are generally happy, with quiet temperaments. Arax was used extensively at Tersk between 1959 and 1969. At age 17 he was sold to Holland. Unfortunately, he died in an accident while en route.

The line progenitor for Arax was his son Nabeg, foaled in 1966 out of the Naseem daughter Nomenklatura. Tragically, Nabeg died at the age of 12, and the loss of this fine breeding stallion was monumental. Seventy-seven Nabeg sons and daughters are listed through Volume IV of the Russian Arabian Stud Book citing production years beginning in 1972 and extending through 1979.

Arax daughters are greatly sought-after worldwide. His daughter Magnolia, foaled in 1960, was the last daughter of Mammona, who was one of the last daughters of Ofir. Magnolia is unique in the annals of the breed when her production record is analyzed. She is one of the few mares at Tersk to have had five sons win international championships. In 1964 Magnolia won First Degree honors at the All USSR show. In reviewing the dominant placings of Arabian horses shown at the All USSR Show, it is interesting to note that six Arax get were awarded the prestigious "Certificate of First Degree," which is analogous to the US Reserve National Championship. In 1964, in addition to Magnolia, two other Arax daughters, Podarok and Palba, shared First Degree honors. In 1970, the Arax son Nadir, out of Nitochka, earned the certificate. Unfortunately, Nadir died in 1976. Nemezida, out of Neposeda (by Priboj), captured the award in 1971, and her full brother, Namek, won in 1977 as a 13-year-old. Two All Union speed records were established by Arax get. In 1968, at age four, Mramor (x Metropolia) set a track record for the 1600 meter distance at 1:45:2. A filly, Sapina, by Arax and out of Solianka II, established a 2400 meter record as a three-year-old in 1962 with a time of 2:42:5. Many European breeders were quick to recognize the value of Arax blood. They imported 42 of his offspring, beginning in 1962. Seventeen Arax sons and daughters were sold to Holland, with the remaining 25 going to England, Germany, Poland and Italy.

Burtanna's dam line is made up of a great combination of Egyptian, Crabbet, and Gainey blood. Burtanna's dam Garanea, is ES Samit Melik, an *Ansata Ibn Halima++ grandson. *Ansata Ibn Halima++ founded the Ansata dynasty. Imported from the Egyptian Agricultural Organization (EAO), known today as El Zahraa Stud in Egypt to Ansata Arabians as a yearling in 1959. Originally named Ibn Halima, *Ansata Ibn Halima++ was one of the world's most influential Arabian stallions. An ideal example of the Dahman Shahwan strain, *Ansata Ibn Halima++ possessed a well balanced and harmonious frame. He was the embodiment of the classic Arabian horse. *Ansata Ibn Halima++ was 1966, 1967, & 1969 US National Champion Top Ten in Halter, along with numerous Class A Championships in Park, Halter, and Most Classic Arabian, Legion Of Merit achiever. *Ansata Ibn Halima++ proved to be a highly prepotent individual siring not only Champions, but also Champion producers.

Garanea's dam Garane is sired by Gai-Adventure. A Sire of Significance, Gai-Adventure was 1973 US National Reserve Champion Stallion, 1974 US National Champion Stallion, US National Top Ten Pleasure Driving. Gai-Adventure is half sibling to US and Canadian National Champion Stallion *Aramus (*Naborr x Amneris), imported from Michalow State Stud Farm, Poland to be the foundation Stallion for Wayne Newton's Arabians and half siblings *Gwalior (*Naborr x Gwadiana), Canadian National Champion Stallion and *Dornaba++, U.S. National Champion Mare and Reserve National Champion English Pleasure, Legion Of Merit achiever.

Gai-Adventure's sire is the great Polish/Russian import *Naborr. *Naborr is one of eight World Sires of Significance who have sons who are Sires of Significance. (*Gwalior, *Aramus, Kaborr+++, and Gai-Adventure). In 1954 *Naborr was named Reserve National Champion at the All Union Agricultural Fair in Moscow. (Winner of that class was his sire, Negatiw.) *Naborr sold at age 19 for $150,000 and in 1963 *Naborr was imported to USA by Anne McCormick, traveling on the same boat with *Bask.

Gai-Adventure's dam Gavrelle was bred by Daniel Gainey. She was part of the Gainey's Gold Cross with Ferzon and the Rageyma daughter Gajala, and helped perpetuate the Gainey "look". Gavrelle was exported from the US to Paraguay in 1982 and continued having foals. Gavrelle was by the great stallion Ferzon. Ferzon was bred by Frank McCoy and foaled at the same time as Fadjur on the McCoy Ranch. McCoy listed both stallions for sale with Fadjur's price at $700 and Ferzon's price at $10,000, not dreaming anyone could come up with that kind of money during that time. McCoy then showed Ferzon in 1953 at the Palm Desert, CA First Annual All Arabian Show to Reserve Champion Stallion. At that same show Ferneyn, Ferzon's sire, took Grand Championship. Moneyna, the dam of Ferneyn, was named Reserve Champion Mare, while Hasa, a half sister to Ferneyn by Ferseyn, was the Grand Champion Mare. That same year Ferzon also won the Long Beach, CA Yearling Colt Championship, San Diego, CA Desert Arabian Association Yearling Colt Championship (again he place 2nd to his own sire Ferneyn in the Stallion Championship). In August of 1953 Ferzon was Reserve Champion Yearling Colt with Fadjur placing 4th. In September of 1953 Ferzon was the Champion Yearling Colt at the Los Angeles County Fair. Then came Daniel Gainey, Sr, with $10,000 to purchase Ferzon and to produce a distinctive look to Arabians that many people now call the Gainey-look.
Ferzon's dam Fersara, was Pacific Coast Champion Mare 1952, 1953 and Reserve Champion Mare 1954. NEVER OUT OF THE RIBBONS - 27 Classes (21 Blues). 3 time Grand Champion - Pomona Fall Show. Permanent Winner - Kellogg Challenge Trophy. Fersara was considered The Champion Mare, and was Always The Horse To Beat.

Gavrelle's dam Gajala is the daughter of the Crabbet stallion *Raffles. *Raffles was bred by Crabbet Arabian Stud, Sussex, England, was imported from England to United States of America in 1932 by Roger A. Selby, Portsmouth, Ohio. (*Raffles was a gift from Lady Wentworth to the Selby children, as he was believed to be sterile). In 1937, at age 11, he was brought back to fertility by the Selby Stud Manager, Jimmy Dean and his wife, Thelma, primarily through exercise. In 1949, when he was 23, *Raffles was nearly lost to the breed when he broke a hind leg above the hock. Jimmy Dean and his son, Pete, rigged a special sling that supported the stallion enough to let the leg heal. The prepotency of the *Raffles type (Ali Pasha Sherif type - classy, bold motion, density of bone and stamina) fixed Arabian type for American breeders for generations. By 1981, 65 percent of the U.S. National Champions and Reserves had one or more crosses to *Raffles.

*Raffles' dam, *Rifala, was both an English and American Champion. She won several times in England and was champion mare at the National Arabian Show in Nashville, Tenn., in 1933. *Rifala was also registered in the Jockey Club book as No. 5465

Burtanna carries 22 lines to Skowronek through both daughters and sons, and 9 of those are through *Raseyn. *Raseyn was the first stallion by Skowronek to come to the US. He was a regular feature in the Kellogg Sunday Show, being trained first as a jumper, then for five-gates as which he was fairly fast at the rack, though not quite with the speed and form of a Saddlebred. He had a natural slow gait, which he performed with style, and a slow and graceful canter. *Raseyn was Champion Arabian at the Los Angeles County Fair in 1933 and Champion Arabian Stallion at the Los Angeles National Horse Show. He maintained his beautiful dark dappling for many years and the white of his coat had the silvery sheen so typical of the Skowronek horses. *Raseyn lived out the last years of his life with Alice Payne at her Asil Ranch near Chino, California, and died there following a stroke on May 19, 1952. He was 29 years old at the time of his death.

Gajala's dam Rageyma is a daughter of *Mirage. Roger Selby's main purchase in 1930 was *Mirage, an imported grey stallion of the Seglawi Jedran Dalia strain, the most prized of the Seglawi strains. Lady Wentworth described him as 'a very showy good horse. Excellent legs, splendid quarters and fine front. Very good in saddle but too bouncing for English taste as he gets English riders off.' But this was not the reason *Mirage was sold. Weatherbys had by now closed their Stud Book to new imports and although Lady Wentworth tried to persuade them to accept *Mirage, she was unsuccessful and therefore had no option but to sell him. Margaret Lindsley Warden said of *Mirage: "now rated by many experts as the most perfect specimen of the ancient elite or classic type in America…He stands a scant 14.2hh, a sturdy model with the characteristic refinements of the best of his breed. His head is a glory and his great eyes express high but gentle spirit and gracious personality." *Mirage was English Champion at the Richmond Royal Show 1926, and American Champion at the National Arabian Show, Nashville, TN 1934, at the age of 25. A most unique honor for a horse of such remarkable age. Only one other horse, Mr. Selby's mare Champion Rifala, holds the same record of being both a British and American Champion.
Burtanna carries three lines to the great Russian stallion Negatiw. Negatiw was bred by Tersk Stud, Russia. He was 50% Crabbet. Exported to Poland in 1962 and was a race winner in Poland. Race record: 1/4 (2-0-0). Sire of many race winners. Negatiw's sire line was Ibrahim and his dam line was Gazella DB. Negatiw was 1954 Russian National Champion Stallion. He was credited as the stallion that returned the Ibrahim sire to Poland. Negatiw remains highly regarded around the world as the most internationally influential grandson of the immortal Skowronek. Though bred in Russia, Negatiw was from predominantly Polish bloodlines as his dam was a Janów Podlaski confiscate from the Second World War. As a considerably successful sire at Tersk, Negatiw was greatly desired by the Poles for many years. He was finally obtained at age 17, standing in Poland for another 10 years with outstanding results. Having already sired international Sires of Significance *Salon and *Naborr in the USSR, Negatiw left Poland with the immortal *Bandos PASB and a host of wonderfully typey, ultra-refined and extraordinarily feminine broodmares. Director Krzysztalowicz described Negatiw as 'extremely dry and refined, with a small, chiseled head accented by beautifully large, dark and luminous eyes and small ears. His legs were relatively correct (though slightly sickle-hocked) and his back and topline were strong and a bit long. As a stallion, he was strikingly refined and distinguished - he represented a rare example of perfection.'

Burtanna carries 8 lines to *Fadl. *Fadl was bred by Prince Mohammed Ali, Manial Stud, Egypt., Imported from Egypt to United States of America in 1932 by Henry B. Babson, Chicago, Illinois. Sire of seventy-four registered purebred Arabian foals (34 of which were Straight Babson Egyptians). The stallion *Fadl was used as a polo pony and as an endurance mount, besides being a successful show ring competitor in both halter and performance, as well as working on the farm pulling the feed wagon and manure spreader. Modern Arabian breeding owes much to the Babson Egyptian imports. The breed's all time leading sire of champions, Afire Bey V, traces to the Babson stallion *Fadl, as do U.S. National Champion Stallions and influential sires Khemosabi++++//, Legion Of Master and Excellence, and Ali Jamaal, multi-National Champion Park Aequus+/, Legion Of Supreme Honor, *Simeon Shai+ (the only stallion to ever be named U.S. and Canadian National Champion Stallion and World Champion Stallion), Legion Of Honor, multi-National Champion Dressage El Bahim Halawa+, Legion Of Honor, and multi-National Champion English Pleasure Empress Of Bask, to name just a few prominent horses who carry the Babson influence. Of *Fadl's 74 registered get, 34 were Babson Egyptian. Eleven of *Fadl's get produced National winners. The six *Fadl sons who have sired National winners are: Fa-Serr, Fabah, Ibn Fadl, Fa-Turf and Fadheilan (sire of twice U.S. Reserve National Champion Stallion Fadjur, one of the most influential stallions in American Arabian breeding in the twentieth century). *Fadl's National-winner producing daughters are Arafay, Fa-Rahna, Dinah, Faaba and Turfara. Turfa was bred by the Saudi Royal Family (His Majesty King Ibn Saoud) in the Royal Stud at Khorma, Nejd - Central (Saudi) Arabia. Strain: Kuhaylat al-Ajuz, from the stud of Al Khorma in Saudi Arabia. She was presented to King George VI of England as a coronation gift in 1937. Henry B. Babson acquired her from the Prince of Wales and imported her into the United States of America in 1941.

Three of the lines that lead to *Fadl are through Fay-El-Dine. "The very first purebred Arabian foal bred by Henry B. Babson, Chicago, Illinois, and arguably his best individual and best sire ever. Fay-El-Dine is also remarkable in that he is the sire of 10 producers of National winners from only 55 registered get. Fay-El-Dine remains my idol as relates to elegance and huge black eyes. (Ref. my book, The Royal Arabians of Egypt and the Stud of Henry B. Babson for photos and history. It is now out of print.) Judith Forbis"

*Fadl was by Ibn Rabdan, one of the most popular and heavily used stallions in Egypt. Carl Raswan considered Ibn Rabdan as a "world champion" type. Jack Humphreys, who selected Arabians in Egypt for W.R. Brown, described Ibn Rabdan as "almost perfect". *Fadl's dam, Mahroussa, was epitomized as one of the most beautiful mares of her time. Mahroussa was the daughter of Mabrouk Manial and Negma, both classic Arabians of exceptional quality. Mahroussa also produced such horses as *Zarife, *HH Mohamed Alis Hamida, *HH Mohamed Alis Hamama and *Maaroufa, *Fadl's full sister.
ES Samit Melik's dam Farah Mirbana is by the Fay-El-Dine son Mahrouss and out of the Sirecho daughter Sirbana. Sirbana's sire Sirecho was regarded by Carl Raswan as having gone down in American-Arabian history as one of the important foundation sires. Also stating that he is one of the few who have become responsible for salvaging the completely PURE Arabian in America from extinction. Because of his acquisition by Mrs. Ott, Sirecho became one of the few sources of Straight Egyptian lines which remains an outstanding outcross for most pedigrees in which more popular Egyptians were used far more frequently and far less judiciously. He was not stood at public stud, Mrs. Ott handpicked the mares bred to him resulting in a relatively small, but high quality band of foals. A family of remarkable longevity, they are also highly prolific, still producing easily into their late twenties. As beautiful as they are athletic, the Sirecho descendants speak for themselves: Joramir 1968 U.S. Top Ten English Pleasure and Native Costume, 20 Class A Halter and performance Championships; Jora Honey Ku 1978 Canadian National Champion; VP Kahlua 1984 U.S. and Canadian National Champion Mare; AK Sirhalima Australian Leading Sire of Champions; Anchor Hill Halim German multi Champion and Endurance winner; Anchor Hill Omar South African National Champion; Anchor Hill Annah U.S. Top Ten Trail Champion; Ses Khebira Egyptian Event and Salon Du Cheval winner; *Simeon Shai U.S. and Canadian National Champion Stallion, along with such notables as Glorietta Gaazal and Akid Geshan. The black Sirecho granddaughter Shar Gemla is influential in pedigrees of many black show champions of the Arabians of "The Black Stallion" movie fame.

Sirecho's dam, *Exochorda (also known as Leila II and Marquita in Egypt) was known as a beautiful, powerfully built, and exceedingly correct Purebred Arabian racing mare. Much controversy swirls around her importation, birth date, and even her entries in the RAS. Few, if any, can deny the impact she had on the Arabian breed. *Exochorda was a Saqlawi mare born in Egypt in the early part of the 1920's. A demure mare, she stood only 14.2 hands high and weighed about 825 pounds. Her sire, the stallion known as Aiglon, and her dam, Leila I, were both pure desertbreds who had been imported into Egypt directly from the Arabian desert by private breeders. According to Carl Raswan, both parents were acquired through the Argheyl Muhammed Ibn Marzuki of Bureyda Quasim. All three, Aiglon, Leila I and Leila II, raced in the Purebred Division on the Cairo racetrack, under the scrupulous eye of the Jockey Club Committee, headed by Dr. Branch. Raswan stated that Prince Kemal El Dine "used to call *Exochorda (Leila II) the female counter-part of Mesaoud".

Sirecho's sire, *Nasr, was imported into the U.S. in 1932 by Mr. W.R. Brown. *Nasr was bred by Prince Mohammed Ali. He was a stunning white bold and powerful stallion.*Nasr had a remarkable racing career in Egypt prior to his importation. Standing 15 hands high and weighing 1,000 pounds, he is recorded as having a girth of 70 inches with 7.5 inches of bone. His foals were exported to countries all over the world, including England, Brazil, Guatemala, Columbia and Venezuela.

Burtanna carries 2 lines to *Mounwer through her female line Morane. Those crosses come from the brother/sister mating of Mounri and Muhlis. *Mounwer was one of fourteen (14) horses imported to the United States from Syria in 1947 by William Randolph Hearst. The intention of this 1947 Hearst Importation was to breed the newly-imported stallions on the Hearst's older, mostly Maynesboro-derived mares, and in turn, cross the older stallions on the newly-imported mares. After his arrival, Gladys Brown Edwards, in her book The Arabian: War Horse to Show Horse, comments that "*Mounwer was shown in California and won several prizes, rewarded by the judges for his beautiful shoulder, high withers, lots of style and other attributes." We also find in our notes that he was admired by Alice Bracker of Aldachar Arabians for his good head and large and beautiful eye full to the corners without white." *Mounwer was a Shuayman Sabbah by strain, and was bred by the Khamis family of Rayaq, Lebanon, by Kayane out of Bint El Berdowny. Bint El Berdowny seems to have raced at the Beirut racetrack in the 1930's. Bint El Berdowny, "the Daughter of the Berdowny", is a name commonly given to racing mares hailing from the town of Zahlah and its vicinity, in the central part of the fertile Biqaa valley of Lebanon. The Berdowny is the name of the stream on the banks of which Zahlah lies.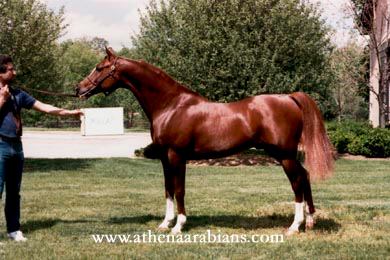 ~ Reference Sire ~
*Muscat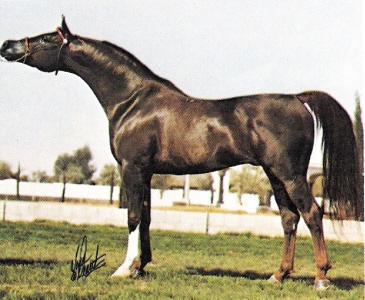 ~ Reference Sire ~
*Nariadni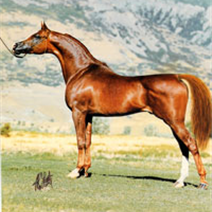 ~ Reference Sire ~
Mussiah+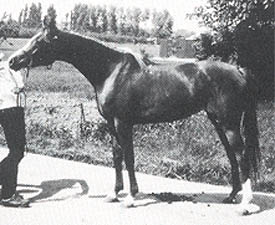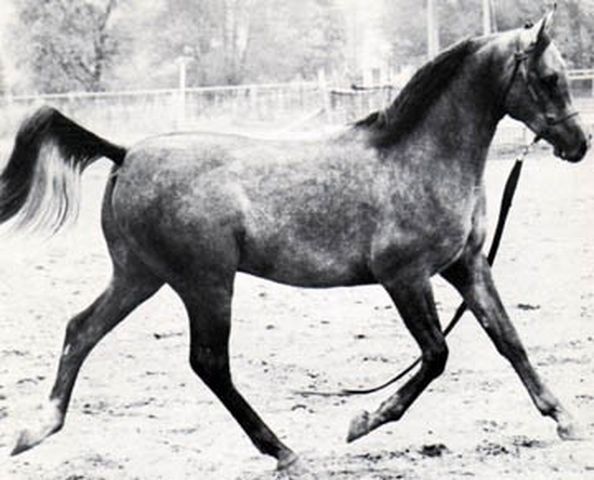 ~ Reference Sire ~
Ansata El Arabi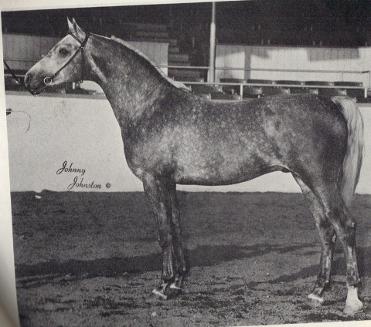 ~ Reference Sire ~
Gai-Adventure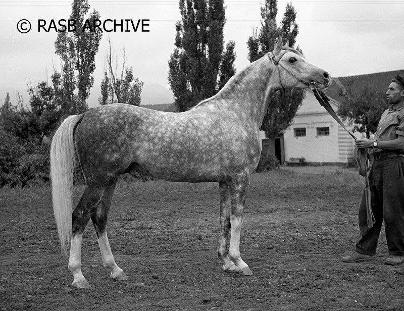 ~ Reference Sire ~
*Salon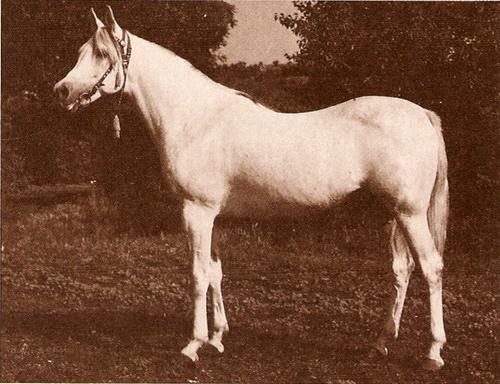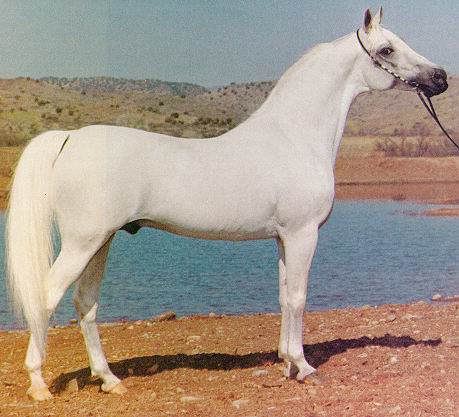 ~ Reference Sire ~
*Naborr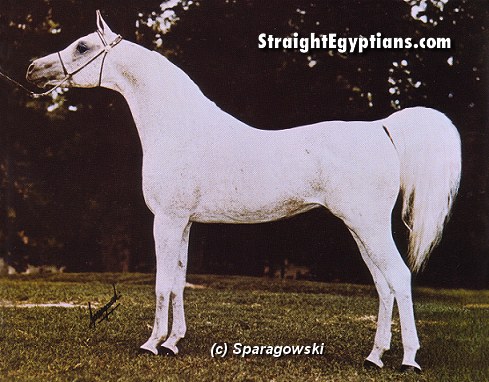 ~ Reference Sire ~
*Ansata Ibn Halima++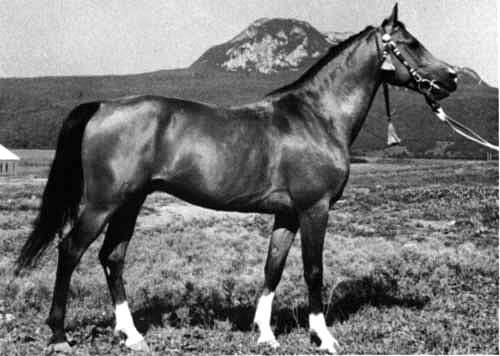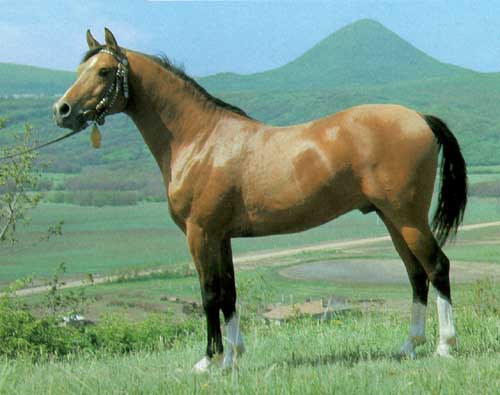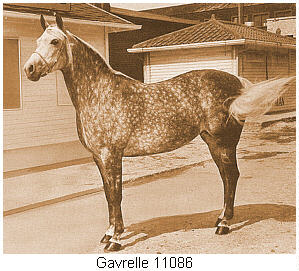 ~ Reference Dam ~
Gavrelle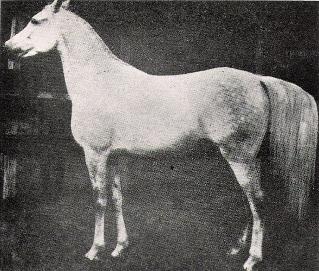 ~ Reference Dam ~
Mahroussa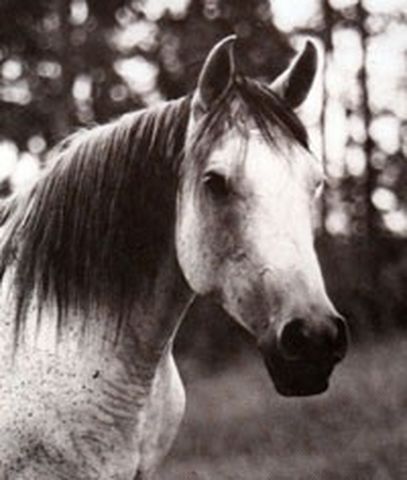 ~ Reference Dam ~
Maarqada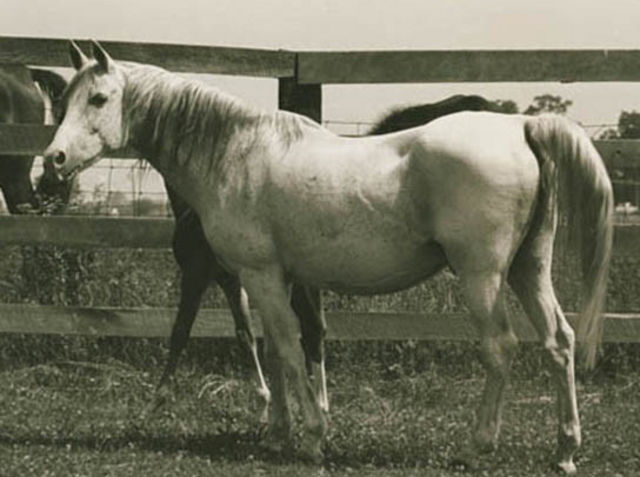 ~ Reference Dam ~
Sirbana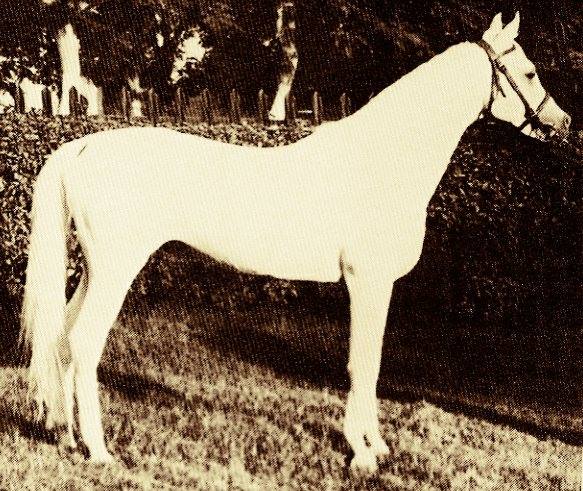 ~ Reference Sire ~
Nazeer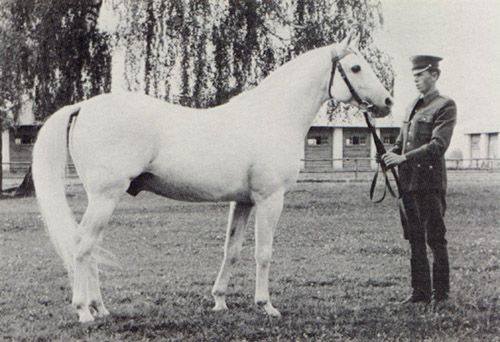 ~ Reference Sire ~
Negatiw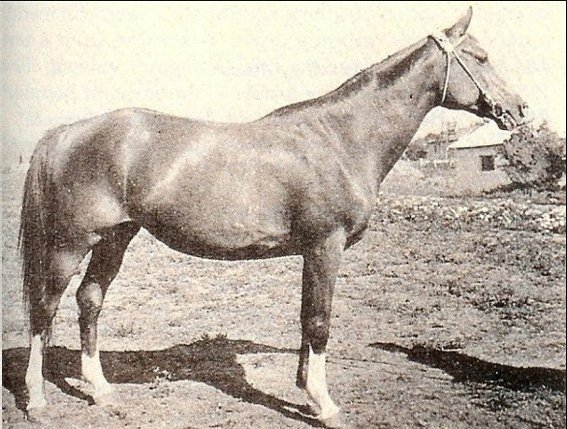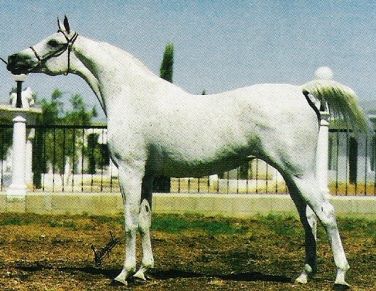 ~ Reference Dam ~
*Nariadnaia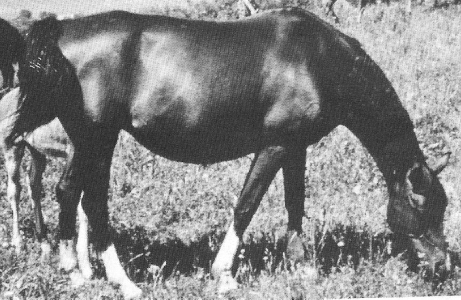 ~ Reference Dam ~
*Magnolia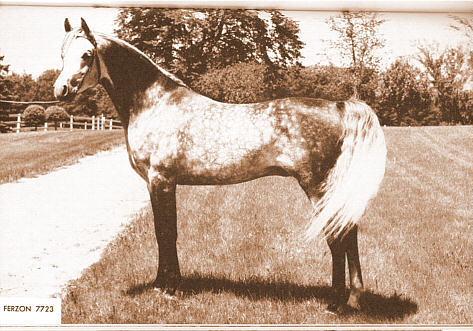 ~ Reference Sire ~
Ferzon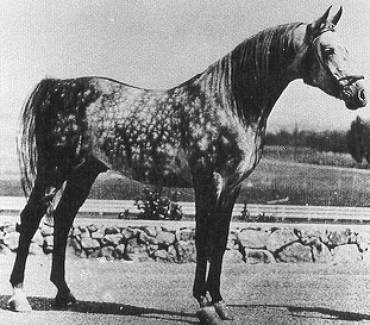 ~ Reference Sire ~
*Raseyn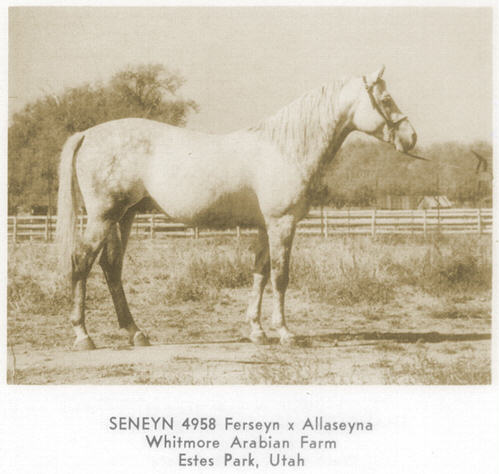 ~ Reference Sire ~
Seneyn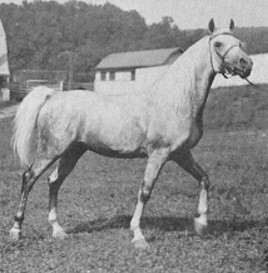 ~ Reference Sire ~
*Raffles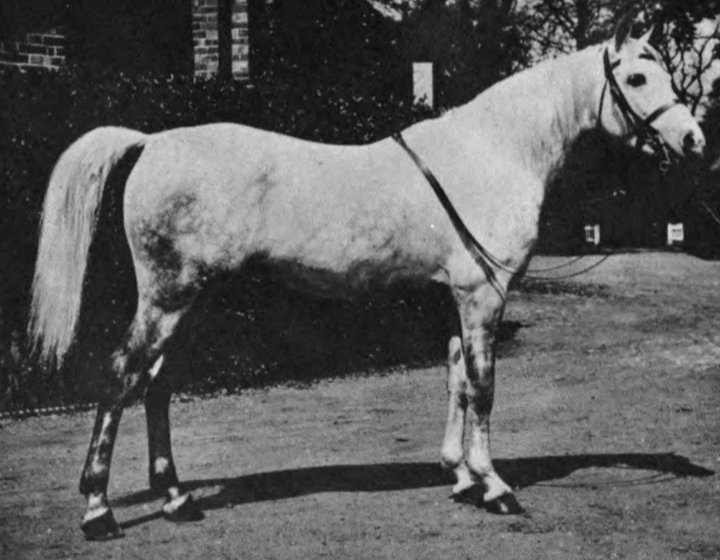 ~ Reference Sire ~
Skowronek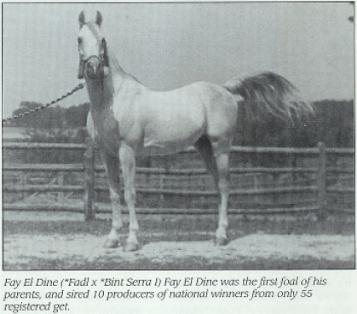 ~ Reference Sire ~
Fay-El-Dine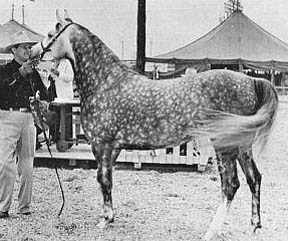 ~ Reference Dam ~
Fersara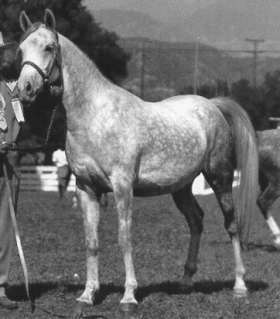 ~ Reference Dam ~
Bint Sahara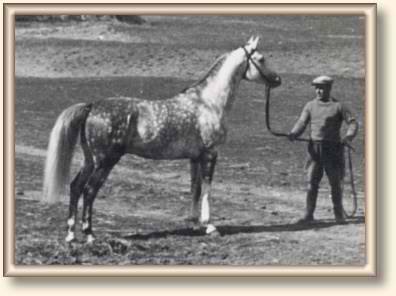 ~ Reference Sire ~
Amurath-Sahib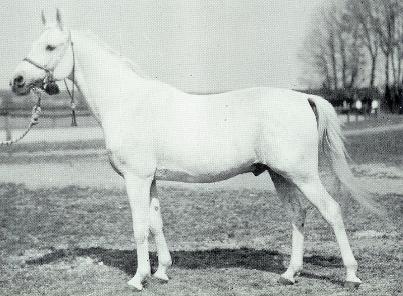 ~ Reference Sire ~
Enwer Bey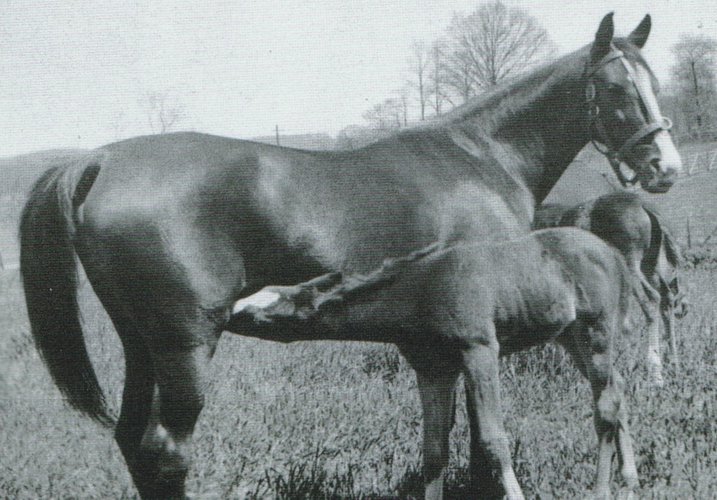 ~ Reference Dam ~
*Exochorda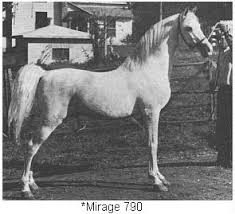 ~ Reference Sire ~
*Mirage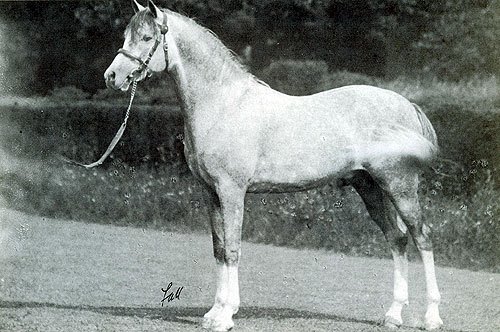 ~ Reference Sire ~
Naseem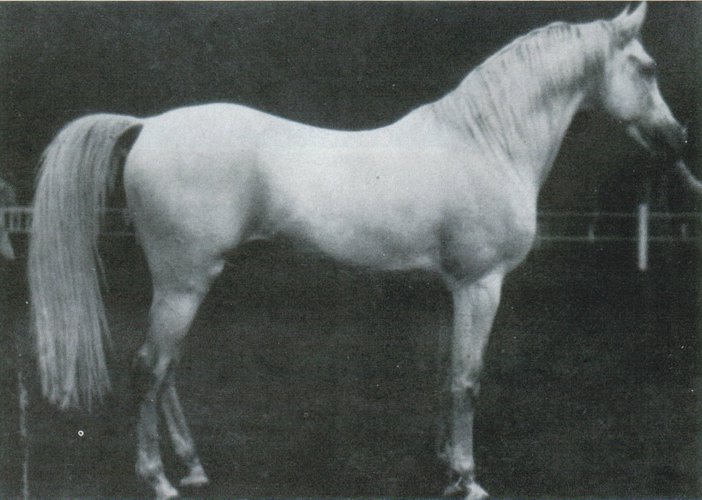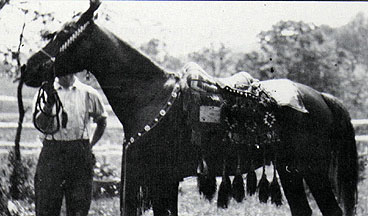 ~ Reference Dam ~
*Wadduda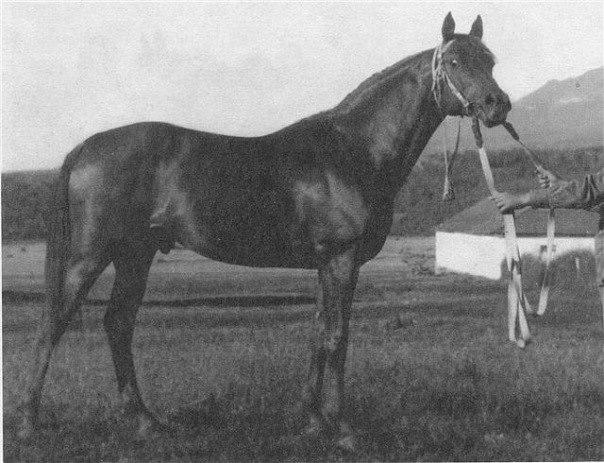 ~ Reference Sire ~
Priboj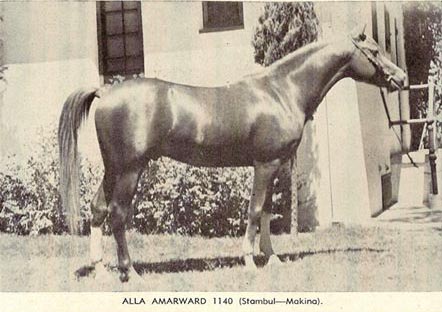 ~ Reference Sire ~
Alla Amarward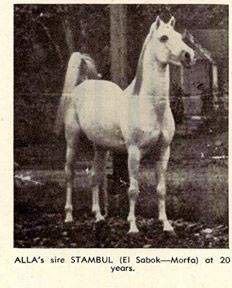 ~ Reference Sire ~
Stambul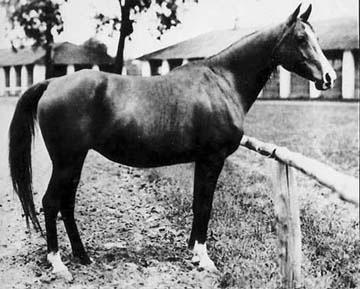 ~ Reference Dam ~
Elegantka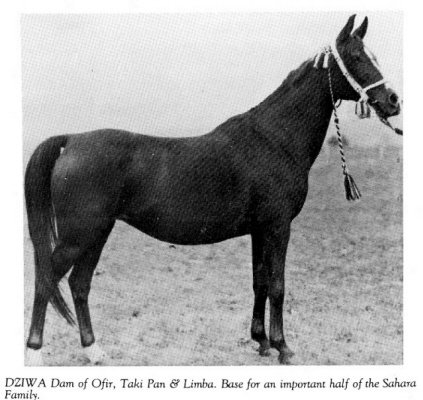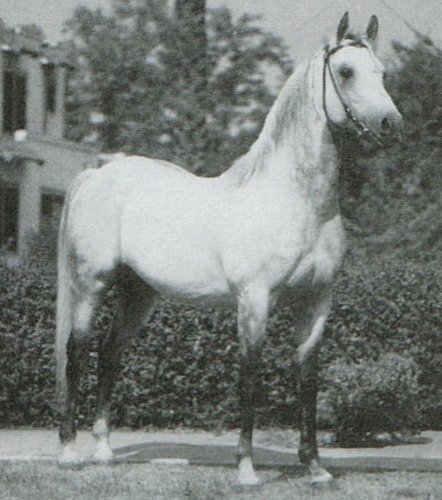 ~ Reference Sire ~
Ferseyn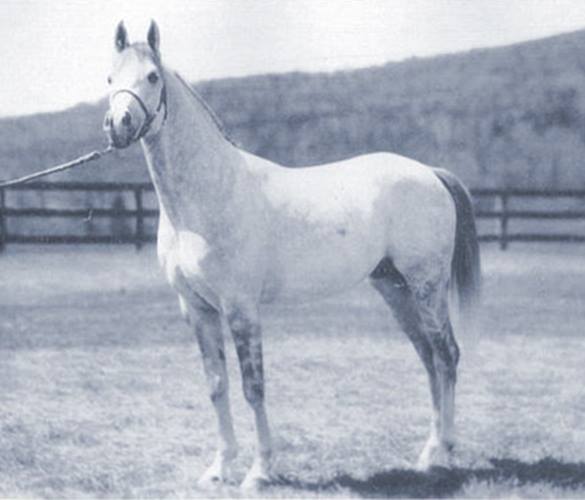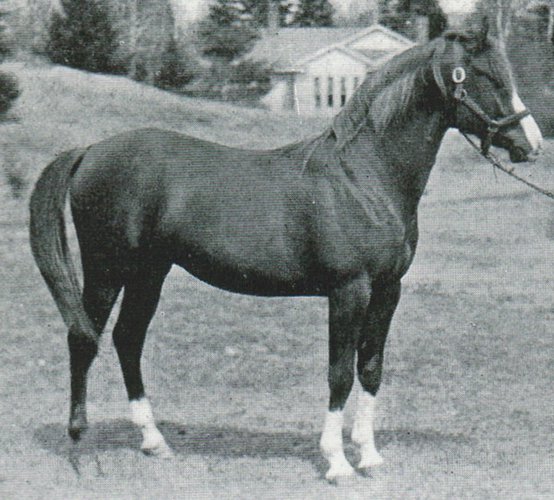 ~ Reference Sire ~
Gulastra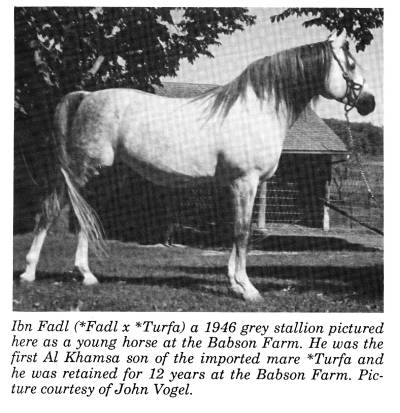 ~ Reference Sire ~
Ibn Fadl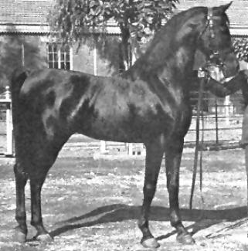 ~ Reference Sire ~
Ibn Rabdan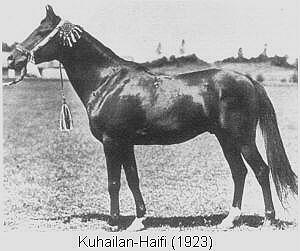 ~ Reference Sire ~
Kuhailan-Haifi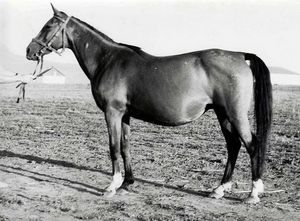 ~ Reference Dam ~
Mammona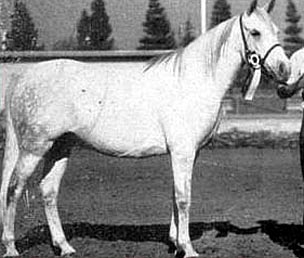 ~ Reference Dam ~
Moneyna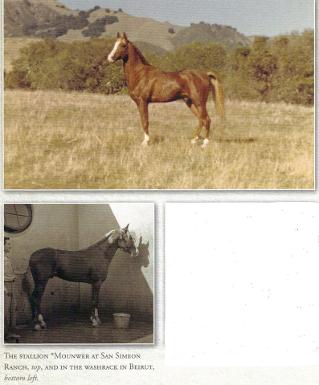 ~ Reference Sire ~
*Mounwer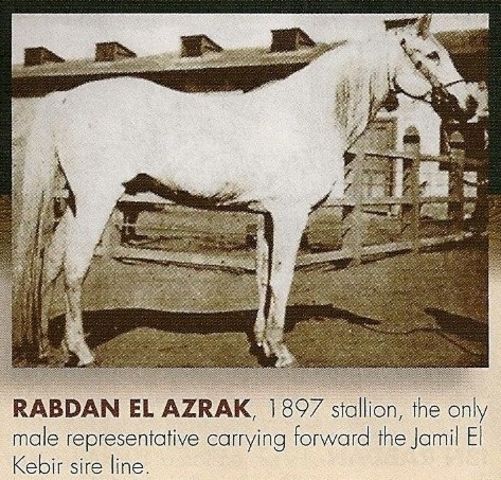 ~ Reference Sire ~
Rabdan El Azrak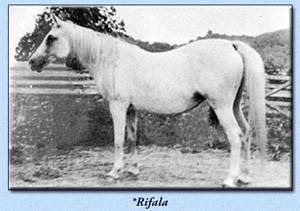 ~ Reference Dam ~
*Rifala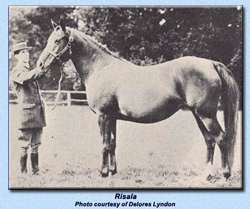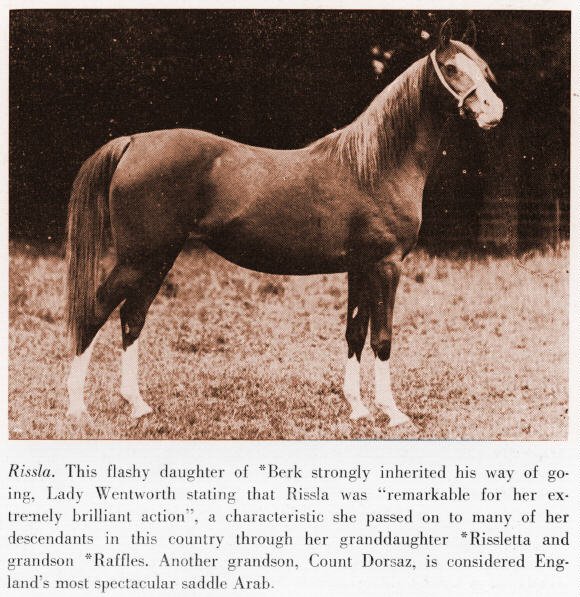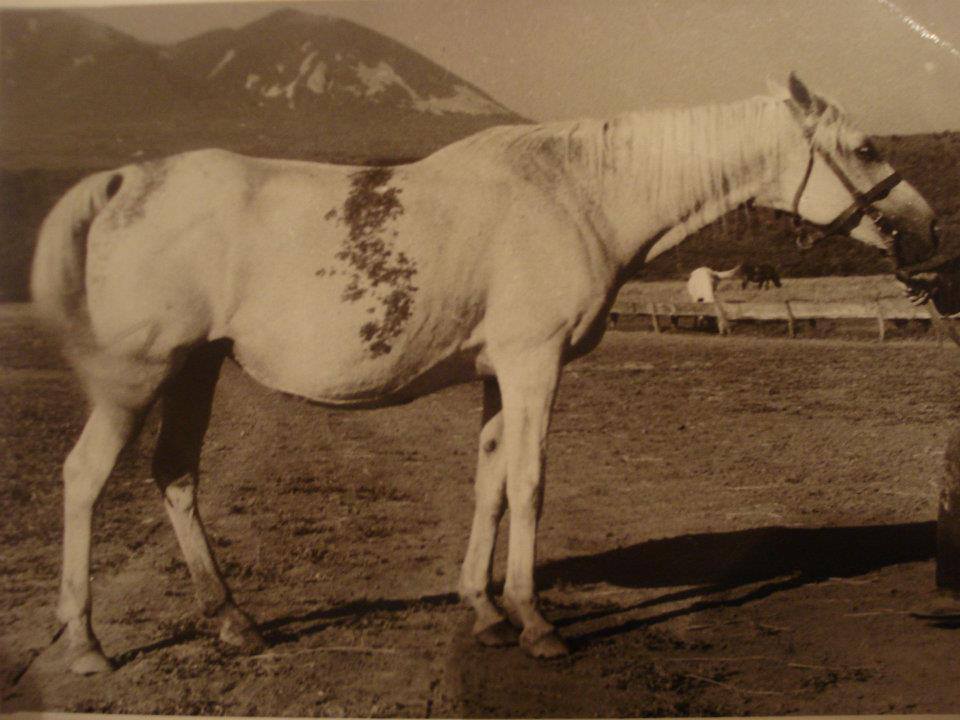 ~ Reference Dam ~
Taraszcza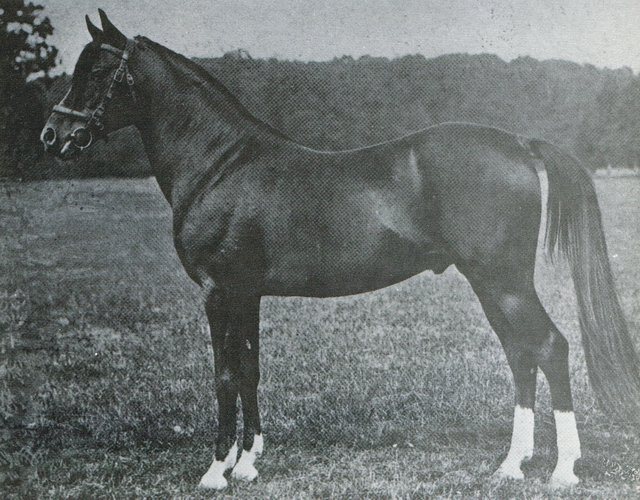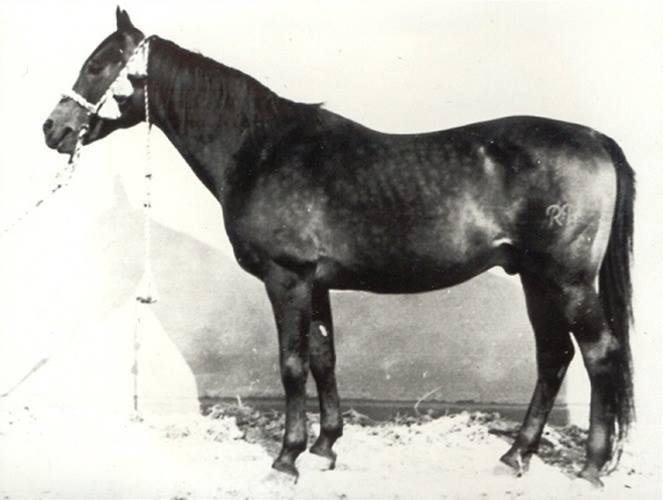 ~ Reference Sire ~
Wielki Szlem