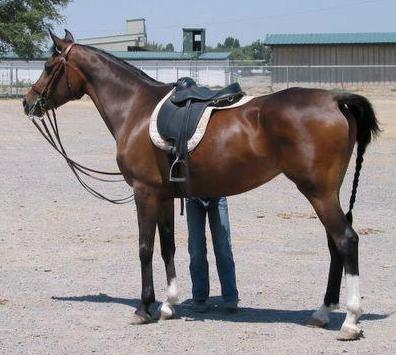 Khlassic Jazz
Pedigree Research

Khlassic Jazz is by the Negatraz grandson Kahn Del. Negatraz is a Pure Polish stallion who is a sire of 550 registered purebreds, among them Aikon and Andrzejevo, and international sire of significance, Monogramm. Negatraz sired many Champions and enough National winners to rank him 5th place among *Bask++ sons that have sired National winners. Negatraz's stud fee in 1987 was $12,500. Negatraz was out of *Negotka, a Scottsdale Reserve Champion Mare and dam of 5 Champions. *Negotka's Champion progeny includes: Biquest, a Regional Halter winner and full brother to Negatraz; and Nadjana, a US National Reserve English Pleasure horse; also Bakkarat+, a three-quarter brother to Negatraz.

Negatraz is by *Bask++. *Bask ++ is the only stallion to be a US National Champion Stallion and Park Horse and is the breed's all time leading sire of Champions and National winners, as well as National winner producers. *Bask++ was bred by Albigowa State Stud, Poland. He began his Race training in Poland at the age of 2. He remained in the Racing program for a full 4 years. Out of 40 races, he placed first eight times, second seven times and was third seven times. Exported in 1963 to Lasma Arabians, USA. *Bask++'s show career consisted of: 1964 Scottsdale Champion Stallion, 1964 Scottsdale Champion Park (3-gaited), 1964 US National Champion Stallion, 1964 US National Top 10 Park, 1965 Spokane Reserve Champion Park, 1965 US National Champion Park, 1965 received the Legion of Merit award, 1966 Scottsdale Champion Park, 1967 US National Reserve Champion Formal Driving, 1967 US National Reserve Champion Formal Combination.

Kahn Del's sire is out of the Halter Champion mare Bajalee. Bajalee was dam to several Champions such as: Khazzan+/, 1984 Scottsdale Reserve Champion Pleasure Driving, 1987 US National Champion Pleasure Driving Top 10, 1988 Canadian National Champion Pleasure Driving & Reserve Champion Informal Combination, 1988 US National Reserve Champion Pleasure Driving & Top 10 Informal Combination; Region 4 Champion Halter Stallion Sher Kahn; and the Endurance stallion Khalief.

Khlassic Jazz also carries the blood of Ferzon through Wendell Hansen's Hansens Firezona. Ferzon was bred by Frank McCoy and foaled at the same time as Fadjur on the McCoy Ranch. McCoy listed both stallions for sale with Fadjur's price at $700 and Ferzon's price at $10,000, not dreaming anyone could come up with that kind of money during that time. McCoy then showed Ferzon in 1953 at the Palm Desert, CA First Annual All Arabian Show to Reserve Champion Stallion. At that same show Ferneyn, Ferzon's sire, took Grand Championship. Moneyna, the dam of Ferneyn, was named Reserve Champion Mare, while Hasa, a half sister to Ferneyn by Ferseyn, was the Grand Champion Mare. That same year Ferzon also won the Long Beach, CA Yearling Colt Championship, San Diego, CA Desert Arabian Association Yearling Colt Championship (again he place 2nd to his own sire Ferneyn in the Stallion Championship). In August of 1953 Ferzon was Reserve Champion Yearling Colt with Fadjur placing 4th. In September of 1953 Ferzon was the Champion Yearling Colt at the Los Angeles County Fair. Then came Daniel Gainey, Sr, with $10,000 to purchase Ferzon and to produce a distinctive look to Arabians that many people now call the Gainey-look.

Ferzon's dam Fersara, was Pacific Coast Champion Mare 1952, 1953 and Reserve Champion Mare 1954. NEVER OUT OF THE RIBBONS - 27 Classes (21 Blues). 3 time Grand Champion - Pomona Fall Show. Permanent Winner - Kellogg Challenge Trophy. Fersara was considered The Champion Mare, and was Always The Horse To Beat.

Khlassic Jazz carries many lines to the Crabbet stallion *Raffles. *Raffles was bred by Crabbet Arabian Stud, Sussex, England, was imported from England to US in 1932 by Roger A Selby, Portsmouth, Ohio. (*Raffles was a gift from Lady Wentworth to the Selby children, as he was believed to be sterile). In 1937, at age 11, he was brought back to fertility by the Selby Stud Manager, Jimmy Dean and his wife, Thelma, primarily through exercise. In 1949, when he was 23, *Raffles was nearly lost to the breed when he broke a hind leg above the hock. Jimmy Dean and his son, Pete, rigged a special sling that supported the stallion enough to let the leg heal. The prepotency of the *Raffles type (Ali Pasha Sherif type - classy, bold motion, density of bone and stamina) fixed Arabian type for American breeders for generations. By 1981, 65 percent of the US National Champions and Reserves had one or more crosses to *Raffles.

Khlassic Jazz carries the Azraff line through her sire's grand-dam Hi Tam Azraffla. Azraff was a sire of numerous winners including Comar Bay Beau+++ out of Rose Of Mirage (1968 Canadian National Champion Stallion and 1972 Canadian National Reserve Champion Western Pleasure); Camiraff++ out of Veishea (1969 US National Reserve Champion Futurity Colt); Galizon out of Gay-Rose (1969 US National Champion Stallion); Lea Baron+ out of Lea Geymette (1973 US National Champion Futurity Colt); AZA Destiny out of Bint Bass Hisan (1981 Canadian National Reserve Champion). Azraff was grandsire of Gai Parada+++/ by Ferzon out of the Azraff daughter Azleta. Extensive list of Top 10 Winners: Adios+++ out of Rose-Of-Cherry; Aza Destiny; Azrhand out of Handeyna; Banouz out of Nejd Banou; Bolsoya Bachelor out of Rapanzel; Camiraff++; Comar Bay Beau+++; Comar Bay Brummel++ out of Rose Of Mirage; Comar Dorrah out of Rafleymira; Comar Garnet out of Rafleymira; Dar Es Salaam out of Al-Marah Indra; Gai-Apache out of Ga-Rageyma; Gai-Gay-Rose out of Gay-Rose; Galizon; Gay-Rouge out of Gay-Rose; Kanadea out of Karin; Kharaff out of Kharasaba; Marqeza out of Marjura; Mirraff out of Mirzona; and Rose Of Azraff out of Rose Of Comar.