Our foals are always handled from birth and are well socialized with humans,
along with their herd environment. We make sure they are halter and lead trained
before they leave to their new homes. We do our best to make sure their
transition to their new home is effortless.

AHA 676961


Allahs Sukkar Abiad (DH Dallas)
X
Nacacijin DSZ (Napayshni)

expected mature height 15-15.1hh
2018 Purebred Arabian Grey Stallion
Heterozyogous Grey (Gg)

*Bask++, *Naborr, *Muscat, *Elkin++, Kaborr+++, *Dornaba++, *Silver Drift, *Aladdinn, *Raffles,
Nagasaki bred



Cinn is a very upright, correct, gorgeous colt. He has ample amount of leg and a strong "to-die-for" hind quarter. His sire comes from a long line of performance horses in Driving, English Pleasure, Reining, and Endurance. Cinn's dam also comes from a deep pedigree of performance and Sport Horses, several of whom are competitors of the Tevis Cup, known as the most extreme Endurance Race in the world. They finished Tevis placing well, and some even received Best Condition.
This colt would be an excellent Endurance horse, Reining, Western Pleasure, Ranch horse, and even Halter. We don't usually breed for Halter horses, extreme athletes are more our style. But who said you can't be pretty and work too? Cinn has gorgeous chiseled features, perfect angles in both shoulder and hind quarter, big well placed eyes, large heart girth, and correct legs, just to name a few of his attributes. He can really go in any direction you would like to take him, Cinn has an outstanding trainable mind.
His sire is 15.1hh and his dam is 15hh, so we feel it's safe to say he should mature at his parents' height. Feel free to call, text or email anytime for more information.

*Bask++
DH Dallas
Borrneyna
Allahs Sukkar Abiad
AF Remminicinnt
AF Rennaisance
*Sirocco Sangria
Sukkars Royale Cinn

Muscastar Son
Napayshni
SA Glitz
Nacacijin DSZ
Royale Bay
Rroyalee
Debbani Al Hadiye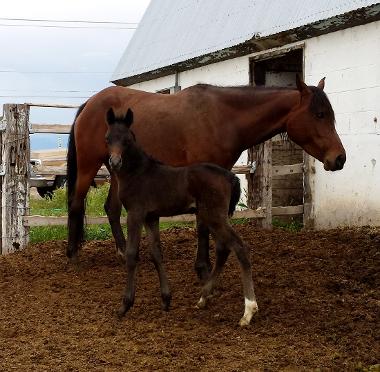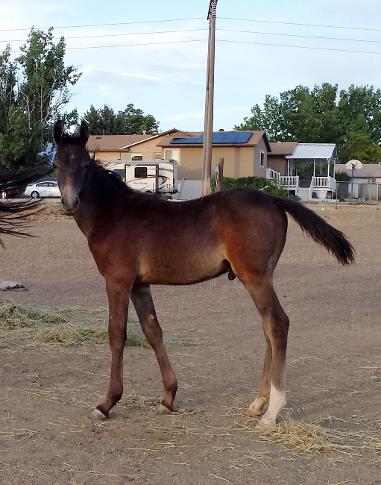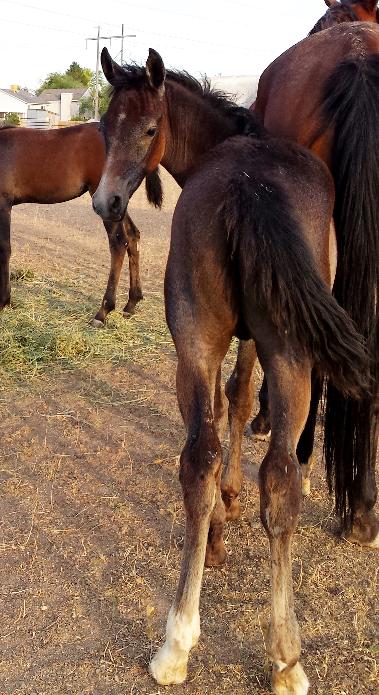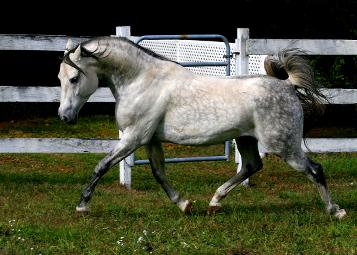 **Sire**
~Allahs Sukkar Abiad~
(DH Dallas by *Bask++ X AF Rennaisance by AF Remminicinnt)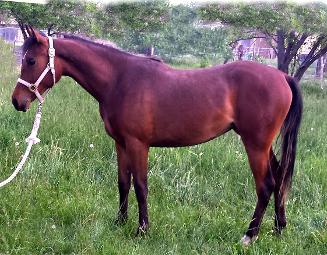 **Dam**
~Nacacijin DSZ~
(Napayshni by Muscastar Son X Rroyalee by Royale Bay)


2019 Foals have been Sold
2018 Foals have been Sold
2017 Foals have been Sold
2016 Foals have been Sold
2015 Foals have been Sold



HAHR


Nvious (Obviously Im Kiddin)
X
Rootanna (TR Hosanna)

expected mature height 15hh
2018 Partbred Arabian/Quarter Horse Bay Filly

*Naborr, *Muscat, *Zbrucz, Skorage, *Raffles,
*Ansata Ibn Halima++, Impressive, Kid Clu, Conclusive bred



Offered & owned by
Mark Kay of Mona, UT


Telephone (435) 681-0044


This filly is very easy going and super friendly, even after being out on the mountain for months at a time. She has very correct strong legs, low set hocks, powerful hind quarters, and a great little baby doll head. She is going to make someone a very nice cow/ranch horse, hunting horse, and just a good all-around horse. Her sire is the Canadian imported Quarter Horse stallion, Nvious, son of the Canadian National Champion Obviously Im Kiddin, and grandson of the multi World Champion Im Kiddin. Her dam is the Arabian Mare, Rootanna, who is by the Taylor Ranch bred stallion, TR Hosanna. He is the result of the outstanding cross of *Muscat and *Nariadni Russian blood. These lines are outstanding athletes and are wonderful Working Western and Cow horses. This filly's dam's dam line consists of the Polish imported Champion *Zbrucz (son of Comet), the multi Champion Gainey stallion Skorage, the Egyptian Champion import *Ansata Ibn Halima++, and *Naborr's US National Champion son Gai-Adventure. This filly is bred to be a heck of a saddle horse.

Also Available is this filly's full sibling, a 2017 sorrel colt. Both are priced at $1,500.
Im Kiddin (QH)
Obviously Im Kiddin (QH)
Conclusive Dream (QH)
Nvious (QH)
Touchdown Kid (QH)
A Better Touch (QH)
Nine Or Better (QH)

2018 Bay Filly
Mussiah+
TR Hosanna
Natasha RA
Rootanna
Brusally Zbruskor
Zbruskor Grey
Garanea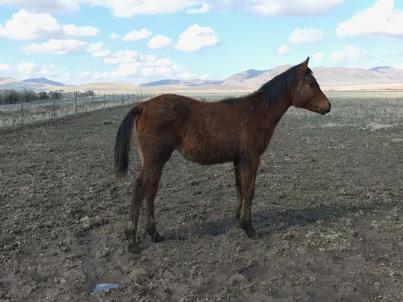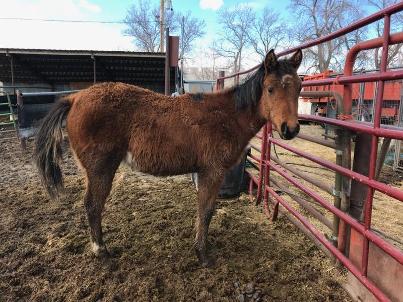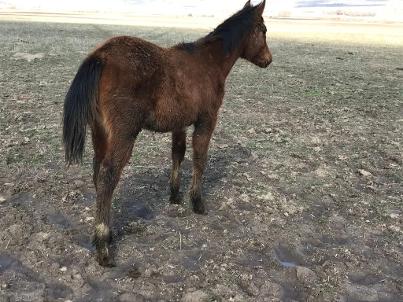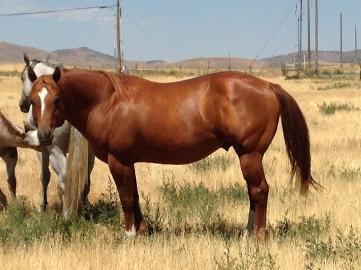 **Sire**
~ Nvious ~
(Obviously Im Kiddin by Im Kiddin X A Better Touch by Touchdown Kid)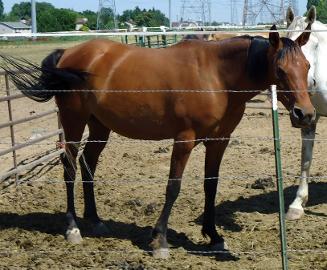 **Dam**
~ Rootanna ~
(TR Hosanna by Mussiah+ X Zbruskor Grey by Brusally Zbruskor)

Sold to Valle de Cavallos LLC, Idaho

Zegas+ (*Ganges)
X
Grace Kellie (Northerlei)
15 hh
(Measured by our veterinarian with a
VERY short fresh trim)
2010 Bay Purebred Arabian Filly
Pure Polish
AHA 650340

Bred by Michelle Martin and Angela Okamoto
Breeders Sweepstakes, US & Canadian Halter Futurity Nominated
&
SHN Payback Program eligible
Offered & owned by
Walter & Angela Okamoto of Last Man Standing Ranch

Telephone (801) 657-8860

Videos upon request


This mare is Pure Polish and has a pedigree of KINGS. With her bloodlines through *Aladdinn, *Bandos, *Goliat, and *Ganges (Monogramm) this girl can go ALL THE WAY. And who doesn't want an athlete and/or a broodmare that is tail female to the great Forta? Not only a tail female line to Forta, but 6 different crosses to the mare known as the great athlete producer. This mare really has the who's who of legendary horses in her pedigree. 4 crosses to Czort, 2 crosses to Comet, 3 crosses to El Paso, 6 crosses to Forta, just to name a few that influence this unique mare's athletic make up. 'Giza' is built to knock 'em dead in the show ring and to tackle any task under saddle with ease. This beauty has legs that go forever. And with her beautiful BIG black eyes and that snake of a neck, we know she will make someone a superb athletic champion in Endurance, Dressage, Jumping, and a knock out broodmare.

Monogramm
*Ganges
*Garonna
Zegas+
*Goliat
Zabrynka
Zabrina VF
Grace Of Ganges
*Aladdinn
Northerlei
Westerlei+
Grace Kellie
*Bandos PASB
Festivity VF
NDL Fantasy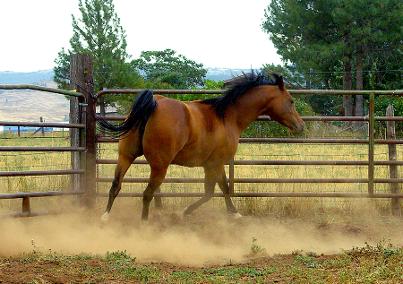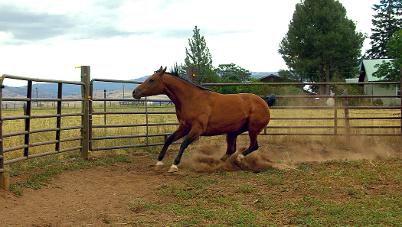 **Grace Of Ganges photos August 2015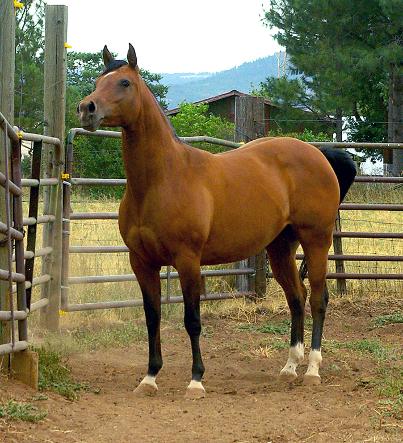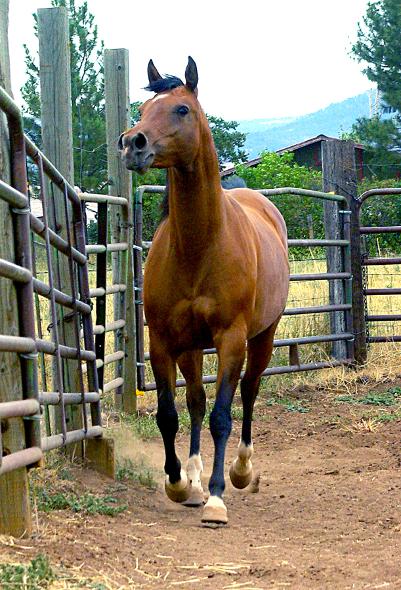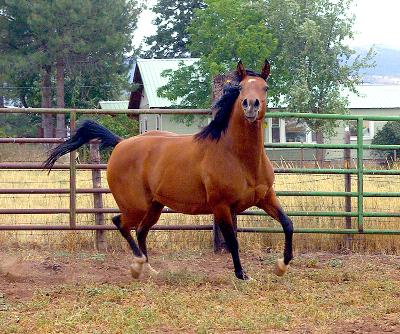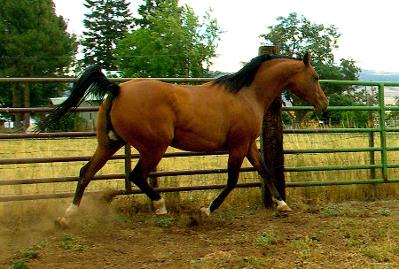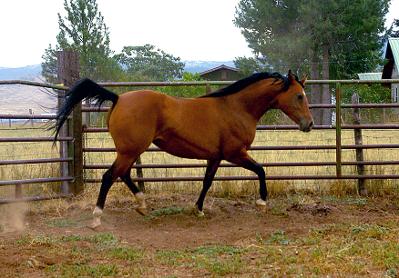 **Grace Of Ganges photos by Angie Okamoto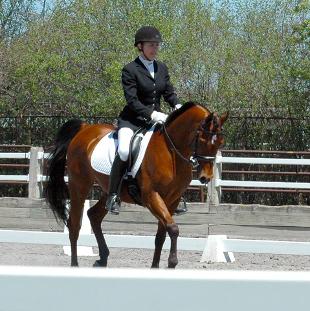 **Sire**
~ Zegas+ ~
(*Ganges by Monogramm X Zabrynka by *Goliat)
***Photo courtesy of Watching Hawk Arabians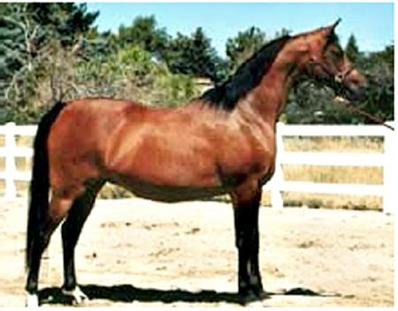 **Dam**
~ Grace Kellie ~
(Northerlei by *Aladdinn X Festivity VF by *Bandos PASB)
***Photo courtesy of Bridges Arabians