All mares at Double Starz Ranch are saddle horses.
They serve a purpose for us under saddle first and foremost before they are broodmares.
Double Starz will not use a mare for breeding until she has first proven herself to us under saddle.
Her temperament while ridden is her most admirable quality.
Royale Bay (Crown Royale by *Bask++)
X
Debbani Al Hadiye (ASF Wizard by El Iat)

AHA 627500

14.3hh 2006 Bay mare

8 inch cannons
71 1/2 inch heart girth

Carries the Rabicano (roaning) gene
Heterozygous Black - Ee

*Bask++, *Naborr, *Dornaba++, *Silver Drift,
Port Bask, Raktha, *Fadl, *Turfa, Skowronek bred

Sire line: Kuhailan-Haifi
Dam line: Al Hamdaniah

Due May 17, 2018 by Comar Gai Rifraff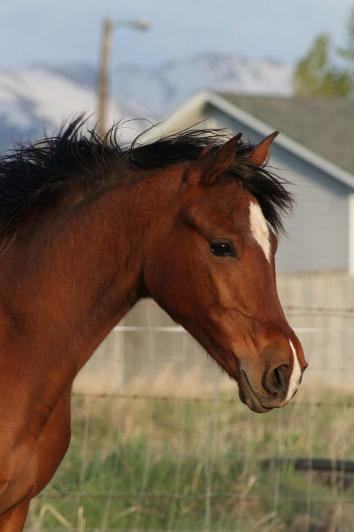 Kioraja (Saable by SX Saladin)
X
Debbani Al Hadiye (ASF Wizard by El Iat)

AHA 640212

15hh 2008 Grey Mare

8 1/2 inch cannons
78 inch heart girth

Base coat color Chestnut
Heterozygous Grey - Gg
Non Black - ee

*Naborr, *Serafix, Indraff, Fadjur, SX Saladin, Ferzon, *Raffles, Gai-Adventure, *Fadl, *Turfa, Raktha, Skowronek bred

Sire line: Ibrahim
Dam line: Al Hamdaniah

Due May 18, 2018 by Allahs Sukkar Abiad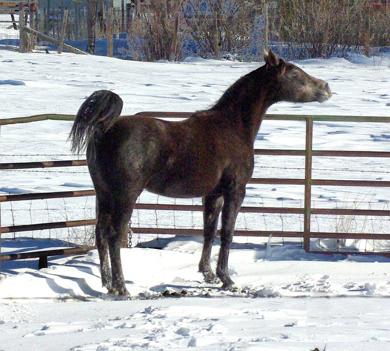 Napayshni (Muscastar Son by Muscastar)
X
Rroyalee (Royale Bay by Crown Royale)

AHA 665969

15hh 2013 Bay Mare

at 3 yrs old measurements so far:

7 inch cannons
69 1/2 inch heart girth

Heterozygous Black - Ee

*Muscat, *Naborr, *Bask++, *Elkin++, Ferzon, Kaborr+++, *Dornaba++, *Silver Drift, *Raffles,
Raktha, *Fadl, *Turfa, Skowronek bred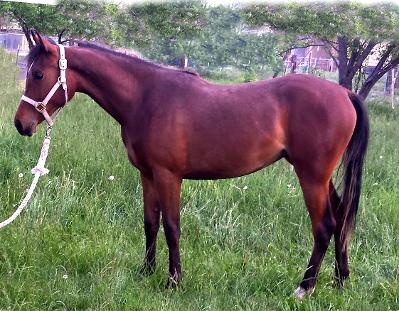 TR Hosanna (Mussiah+ by *Muscat)
X
Garanea (ES Samit Melik by Ansata El Arabi)

AHA 599060

15hh 2001 Grey Mare

8 1/2 inch cannons
72 1/2 inch heart girth

Heterozygous Grey - Gg
Heterozygous Black - Ee

*Naborr, *Muscat, *Nariadni, Mussiah+, Aswan,
*Ansata Ibn Halima++, Ferzon, Arax, *Raffles, Skowronek bred

Sire line: Ibrahim
Dam line: A Saqlawiyah Jidraniyah Ibn Sudan
Due May 18, 2018 by Comar Gai Rifraff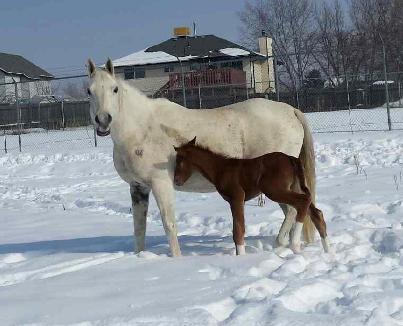 Pyro Thyme SA (Pryme Thyme by Negatraz)
X
Chica Bonita PF (Madrid PF by *Malikitoa)

AHA 643468

14.3hh 2008 Grey Mare

Arabian Breeders Sweepstakes

8 inch cannons
72 1/2 inch heart girth

Heterozygous Grey - Gg

Kaiyoum++, Bay-Abi++, *Padre, Magic VF, Gdansk+, DWD Tabasco, Negatraz, Raffon++, *Figuroso, *Bask++, *Naborr,*Farazdac, *Tuhotmos, *Raffles, Skowronek bred

Sire line:

Kuhailan-Haifi

Dam line: *Nejdme
Due May 1, 2019 by Comar Gai Rifraff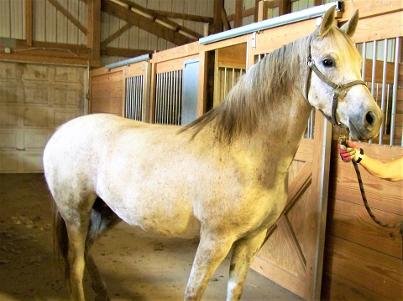 Comar Gai Rifraff (LA Shaman by Gai Parada+++/)
X
Saudii Fadmar (Kioraja by Saable)

AHA (pending)

expected to mature @15hh 2016 Grey Filly

Base coat color Bay
Carries the Rabicano (roaning) gene
Heterozygous Black - Ee
Heterozygous Grey - Gg

*Naborr, Gai Parada+++/, Ferzon, *Serafix, Fadjur, Comar Bay Beau+++, SX Saladin, *Raffles, Gai-Adventure, Azraff, Indraff, *Fadl,
*Turfa, Raktha, Skowronek bred

Sire line: Ibrahim
Dam line: Al Hamdaniah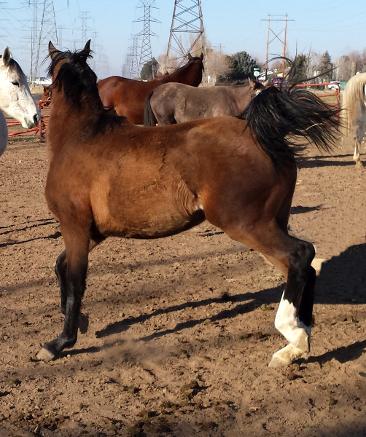 Comar Gai Rifraff (LA Shaman by Gai Parada+++/)
X
Nacacijin DSZ (Napayshni by Muscastar Son)

AHA (pending)

expected to mature @14.3hh 2016 Grey Filly

Base coat color Chestnut
Non Black - ee
Heterozygous Grey - Gg

*Naborr, *Bask++, Gai-Parada+++/, *Elkin++, Kaborr+++, *Dornaba++, Comar Bay Beau+++, *Silver Drift, Ferzon, *Raffles, Azraff, *Muscat, Raktha, *Fadl, *Turfa, Skowronek bred
Sire line: Ibrahim
Dam line: Al Hamdaniah