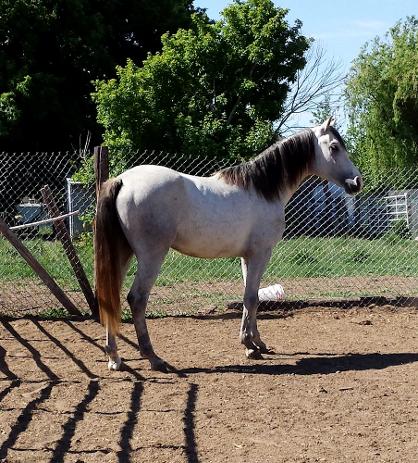 Royale Sumernitz
Pedigree Information


Royale Sumernitz is by the carefully bred stallion Midsumernitzdream. You don't usually see the cross of an *El Shaklan daughter with a *Carmargue son. Om El Arab's most successful cross was of an *El Shaklan son on a *Carmargue daughter. Midsumernitzdream is an example of how outstanding that this cross really is and of what could have been if it would have been practiced more. Midsumernitzdream's sire NYN Ndoto did very well in his show career under saddle in Country English Pleasure until his death at an early age. NYN Ndoto was by the ethereal World Champion stallion *Carmargue. *Carmargue was bred by Mr. & Mrs. G T Greenwood of England. He was owned for most of his life by Mr. Alun Prothero. In 1985 *Carmargue was exported to Spain. He was named World Champion in 1985 with the highest points ever awarded at that time, and Spanish National Champion Stallion in 1986. He was then exported on lease to the US. *Carmargue introduced to the international community a new sire line source of Skowronek through his most beautiful son Naziri. Despite being a full brother to Naseem, Naziri was far more alluringly beautiful and refined and those looks were passed to his offspring all of which were said to have had an unusual, nearly ethereal elegance rarely encountered. In her 1938 stud Lady Wentworth described Naziri as "The most perfect Arabian stallion alive!" (Bearing in mind that all the most prominent Skowronek sons were alive-never mind Nasik and other equally famous Crabbet stallions!). In an interview with the "The Illustrated Sporting and Dramatic News" on 31st of July 1936 she was emphatic that, "…no money on earth would have bought the fine Arab Stallion, Naziri….." (she had recently sold horses to Russia and Spain). But it was Cecil Covey in his last formal interview in 1984, who drove home the critical importance of *Carmargue. Covey noted that Naziri was regarded by all that knew him "…as the most beautiful Skowronek son-ever." Covey went on and said, "*Carmargue is a ringer for Naziri with a slightly improved hip and topline and with an incredibly kind disposition (Naziri like *Mirage could be quite lively whilst *Carmargue had a more Bright Shadow like disposition!"). "Naziri was so treasured that Lady Wentworth was terrified of something happening to him so she would not allow him off the Crabbet property." Despite all the precautions Naziri was killed at the outset of WWII and had sired only 6 foals-5 fillies and 1 colt, whose blood was comparatively unavailable until Burkan was acquired by Patrica Lindsay. This was the Naziri grandson, by the Guiness family's (Lord and Lady Moyne) Saladin II, Burkan, who sired White Lightning – the sire of *Carmargue bred by Glyn and Joyce Greenwood. On the other side of *Carmargue's pedigree, his dam, Velvet Shadow was by Bey Shadow by Bright Shadow. Bright Shadow's dam, Pale Shadow was out of Shamnar, also by Naziri. Thus both sides of *Carmargue's pedigree carried the prepotent, though distant, Naziri blood. It is that soft ethereal beauty and look that so frequently occurs in the Naziri descendants via *Carmargue that makes him so extra special. (Note three other prominent Arabians carry double Naziri though not on the sire line: *Padron, Count Dorsaz and *Rushan AHSB!) Suffice it to say, when it was discovered that there was such a stunningly beautiful horse who brought a new line to the most internationally successful sire line of the 20th century, breeders around the world lined up to try to acquire *Carmargue first form his breeders the Greenwoods and then later from Alun and Mary Prothero- the Greenwood's good friends who got *Cam when Mr. Greenwood became critically ill. When a purchase proved unsuccessful, first Diego Mendez, then Om El Arab International, and finally Paolo Gucci leased *Carmargue and his sons and daughters have been snapped up as quickly as they were offered for sale. Around the world such important breeding establishments as Halsdon Arabians, Om El Arab International, Martenssons Arabians, La Aldara, Ses Planes, Redwood Lodge, and the leading studs in Saudi Arabia, South America, South Africa and Kuwait boast the blood of *Carmargue! When first seen *Carmargue was said to be in the words of international trainer, judge and breeder, Paul Atkinson, "….all that was best in his full brothers and sisters!" Quite a compliment as all, or nearly all, *Carmargue's brothers and sisters were Champions in their own right and even had some international success. But none had the impact of *Carmargue. In fact, it could be argued *Carmargue was a genetic freak…an extraordinarily beautiful horse who not only stunned crowds in the show ring, but was equally successful in the breeding barn. He never sired a chestnut-only grays and bays. His grays like sons and International winners WSA Charismma, Arazi, Om El Abadan and Ali Khamsin are stunning, turning nearly white by the time they were three and they all had an almost eerily ethereal quality of elegance and kindness. The bays were as stunning but took much longer to mature into the beauties that the gray siblings enjoyed…but oh what beauties they were and are. For example the kindly *Carmagnole was often thought to be a small horse…until he was 7 and measured just at 16 hands with shoes! More importantly, like the Skowronek sons of old, the *Carmargue grandget are proving equally as important. For example the Australian bred Junior World Champion Espano Estopa is making a significant impact in Europe now. The most important thing to remember about *Carmargue was what perhaps made him so successful, was that he was so incredibly kind. He emitted a warmth, gentleness and kindness that was simply unparalleled. To know *Carmargue was to know love and he passed that sweetness to all of his sons and daughters. He was truly a miracle and blessing to Arabdom and so remember: The next time you see an Arabian who looks like a fairytale come to life-check the pedigree. It is probably a *Carmargue.

NYN Ndoto was out of the Spanish bred mare LA Sambra. LA Sambra's sire was the Champion producing sire El Tabal. El Tabal's sire was the beautiful stallion *An Malik. Foaled in 1970, bred by Juan M. Valerio of Spain, *An Malik was imported to the US in 1972 becoming Class Winner 2 year olds, Champion Male Purebred Arabian and Supreme Show Champion All Breeds at the Feria De Sevilla for the first WAHO meeting. *An Malik's sire is whom we think Royale Sumernitz resembles the most, the great Galero. Galero is considered possibly the greatest sire of Spanish Arabians in modern times. It is believed that he was stolen sometime during the night, but despite a nationwide search, he was never found or seen again. Whatever happened to this stallion remains a mystery. El Tabal's dam was the Canadian National Top 10 Mare Taduria De Washoe.

LA Sambra's dam Mi Shadow was by the Spanish stallion *Barich De Washoe. *Barich De Washoe was bred by Don Luis de Ybarra y Ybarra, Spain. He was imported into the US en utero in 1965 by Andrew Steen. *Barich De Washoe is a Canadian National Western Pleasure Reserve Champion. He is one of the most influential and important Spanish sires in the breed, and with 483 foals, he is ranked number one on the Top 10 list of leading Spanish sires.

Midsumernitzdream's dam, CH Moniet, is by the 1977 British Reserve National Champion Stallion, 1997 European and World Junior Champion Colt, 1978 British National Champion Junior Colt, Brazilian National Champion Stallion, 1983 US Top 10 Stallion and 1984 Canadian National Top 10 Stallion *El Shaklan. Bred by Om El Arab of Germany, he was then exported to England, then to the US in 1982, to Brazil in 1986, and lastly to Argentina in 1993 at Zichy-Thyssen Stud. *El Shaklan is out of the legendary mare *Estopa.

CH Moniet is out of AZH Nabaska, a daughter of the gorgeous 16.1hh athlete AZH Naborr. AZH Naborr is by the great Russian stallion *Naborr and out of the Azraff and heavily Skowronek bred mare Azhderiane. Azraff was a sire of numerous winners including Comar Bay Beau+++ out of Rose Of Mirage (1968 Canadian National Champion Stallion and 1972 Canadian National Reserve Champion Western Pleasure), Legion of Supreme Merit; Camiraff++ out of Veishea (1969 US National Reserve Champion Futurity Colt), Legion of Merit; Galizon out of Gay-Rose (1969 US National Champion Stallion); Lea Baron+ out of Lea Geymette (1973 US National Champion Futurity Colt), Legion of Honor; AZA Destiny out of Bint Bass Hisan (1981 Canadian National Reserve Champion). Azraff was grandsire of Gai Parada+++/ by Ferzon out of the Azraff daughter Azleta, Legion of Supreme Honor and Supreme Merit. Extensive list of Top 10 Winners: Adios+++ out of Rose-Of-Cherry, Legion of Supreme Merit; AZA Destiny; Azrhand out of Handeyna; Banouz out of Nejd Banou; Bolsoya Bachelor out of Rapanzel; Camiraff++, Legion of Merit; Comar Bay Beau+++, Legion of Supreme Merit; Comar Bay Brummel++ out of Rose Of Mirage, Legion of Merit; Comar Dorrah out of Rafleymira; Comar Garnet out of Rafleymira; Dar Es Salaam out of Al-Marah Indra; Gai-Apache out of Ga-Rageyma; Gai-Gay-Rose out of Gay-Rose; Galizon; Gay-Rouge out of Gay-Rose; Kanadea out of Karin; Kharaff out of Kharasaba; Marqeza out of Marjura; Mirraff out of Mirzona; and Rose Of Azraff out of Rose Of Comar.

AZH Nabaska's dam Bazarab has produced successful horses under saddle as well as in the Endurance field. Bazarab is by the Sport Horse National winner producing stallion Bask Abtal. His sire is the great *Bask++, his dam being the National Champion producer Rapsette. Bazarab's dam Zarhufa is by the US Top 10 English Pleasure and National winning sire *Prince Zaim. His dam *Princess Zia was Junior Female Champion 1955 in the UK before being exported to the US. Her sire was the accomplished *Count Dorsaz. *Count Dorsaz was bred in England and was imported into the US by Bazy Tankersley at Al-Marah Arabians. He was the winner 2 times of the coveted Winston Churchill Award for the best riding horse of all breeds. *Count Dorsaz is the only Crabbet stallion to sire both a US National Champion (Count Bazy) and a US National Champion Park Horse (Seahorse Duke Dorsaz). Zarhufa's dam Ruhfa Nattall is by the National Champion Masruf El Nattall, who's sire El Natall was the first Pacific Coast Champion Stallion.

Royale Sumernitz's dam is Rroyalee. Rroyalee is a 14.3hh 1015lb mare with a 71 ½ inch heart girth and 8 inch cannons. Rroyalee has been used primarily as ranch horse outside of her broodmare duties. She has a very trainable mind and an abundance of courage. Her qualities as a broodmare are wonderful, consistently producing foals with improved physical characteristics over their parents. Rroyalee is by the Endurance producing stallion Royale Bay. Royale Bay himself was shown in a very brief arena career before he sustained a shoulder injury limiting any more showing or a riding career. Royale Bay was never out of the ribbons during his career. He was a very sweet stallion, always happy to have children around him hugging his legs. He consistently passed on this nurturing temperament to his foals as well. Royale Bay produce several outstanding Endurance horses, among them being Paladin aka: Regalidon (AERC#:H29619), and Edens Bay Rum (AERC#:16105), both very accomplished endurance horses as well as both completing the Tevis Cup (Regalidon placed 26th in 2000, 9th in 2001, and Edens Bay Rum placed 11th in 2002).

Royale Bay is by the US and Canadian National Champion Hunt Pleasure AOTR and Top 10 Hunt Pleasure Crown Royale, whose Halter wins include Regional Championships and a Scottsdale Top 10 title. Crown Royale has sired such National winners as Tollies Crown (who has 9 National wins including titles in Halter, English Pleasure and Pleasure Driving), US Top 10 Hunt Pleasure AOTR and Show Hack Mr Royal+/, Legion of Supreme Honor, US and Canadian Top 10 Hunt Pleasure AOTR 18-39 GA Khemo Dacious, US National Reserve Champion Hunt Pleasure JTR 13/Under, US and Canadian Top 10 Western Pleasure AOTR Bask Kaleed, and Canadian National Reserve Champion Hunt Pleasure and Hunt Pleasure AOTR 18-39 Crown Regente+/, Legion of Supreme Honor. Crown Royale was bred by Dr Howard Kale, one of America's most innovative breeders who imported horses from England, Poland, and Russia to create his breeding program.

Crown Royale is by *Bask++. *Bask++ is the only stallion to be a US National Champion Stallion and Park Horse and is the breed's all time leading sire of Champions and National winners, as well as National winner producers. Bred by Albigowa State Stud, Poland. *Bask++ began his race training in Poland at the age of 2. He remained in the racing program for a full 4 years. Out of 40 races, he placed 1st 8 times, 2nd 7 times and was 3rd 7 times. *Bask++ was exported in 1963 to Lasma Arabians, USA where he became 1964 Scottsdale Champion Stallion, 1964 Scottsdale Champion Park (3-gaited), 1964 US National Champion Stallion, 1964 US National Top 10 Park, 1965 Spokane Reserve Champion Park, 1965 US National Champion Park, 1965 was awarded his Legion of Merit, 1966 Scottsdale Champion Park, 1967 US National Reserve Champion Formal Driving, 1967 US National Reserve Champion Formal Combination.

Crown Royale is out of Canadian National Champion Mare Jewel Drift, dam of 6 Champions including US Top 10 Mare Crown Amber. Jewel Drift is by the Crabbet import *Silver Drift, sire of 18 National winners and over 25 producers of National winners. *Silver Drift is a full brother to the all time leading Crabbet sire of Champions, *Serafix, and a maternal brother to US National Champion Park *Oran Van Crabbet. Jewel Drift's dam, US National Champion Mare and National Reserve Champion English Pleasure *Dornaba++, is a Polish import, with the Legion of Merit. She produced only 3 foals, but all produced National winners. Her other foals are Canadian National Champion Pleasure Driving Rossidor (sire of US National Champion Western Pleasure Royal Lite+/, Legion of Supreme Honor) and Halter Champion Silver Monarch (a full brother to Jewel Drift and sire of US National Champion Western Pleasure El Silmon).

*Silver Drift's sire was Raktha, a British Champion in 1948 and sire of numerous Champions and National winner producers. Raktha was foaled in 1934 at the Hanstead Stud and was purchased by Lady Wentworth in 1939. Raktha and Indian Gold (sire of *Serafix's dam *Serafina) were regarded as two of the most important stallions at the Crabbet stud during World War II. Raktha traces back to Naseem and Skowronek and was an extremely beautiful dark dapple grey, slightly heavy in body, but still deserving of the British Champion Stallion Title at age 14 in 1948. Raktha was regarded as being very different in temperament from his sire Naseem. Raktha was quiet and easy, a type of horse that was good to take to a show. This stallion was regarded as one of the very few perfect types of Arabian stallion. (The Crabbet Arabian Stud, Its History & Influence by Rosemary Archer, Colin Pearson, Cecil Covey). Raktha is also known for his progeny besides *Serafix, such as his famous sons General Grant out of Lady Yules' Samsie, and Indian Magic out of Indian Crown. Famous daughters were Silverlet (out of Silver Gilt) who went to South Africa along with Bint Razeena. Another daughter, *Silwa, is an American Halter Champion and dam of 4 Champions. *Silwa produced *Silwara, a dam of 4 National winners including the Canadian National Champion Stallion Tornado++, Legion of Merit. Other famous sons include *Silver Drift (full brother to *Serafix) and Indian Magic, a British National Champion Stallion.

*Silver Drift's dam was the ethereal mare *Serafina. *Serafina was foaled in 1945 and was considered one of the great mares that led to the resurgence of the Crabbet Stud after the war. *Serafina's sire, Indian Gold, was one of Crabbet's premier stallions. Lady Wentworth's breeding program was rooted on the crossing of the Mesaoud and Skowronek bloodlines whenever possible. Not all of Lady Wentworth's stallions were shown to gain notoriety. Travel was largely by rail and to risk valuable bloodlines to injury of worse was not worth it. One of those stallions that was not shown was Indian Gold, being tail male descendent of Skowronek through *Raswan and Ferhan, this stallion gained his value as a sire through his offspring and particularly through his daughters. *Serafix was *Serafina's first foal and *Silver Drift was a full brother; both were sired by Raktha and imported to the US. *Serafina was over 15 hands which was felt to be due to several crosses to *Nureddin. She was a brilliant, iridescent chestnut which she bequeathed to *Serafix. She had very little white. A quote out of The Arabian Horse, September 1976, an article by Dick Warner, comments on *Serafina: "She is exceptionally good up front with a very long neck, well joined on; good withers and a typy head. She is elegant. She has a deep hip and good legs and a splendid top line. In short, she is an excellent Arabian mare, with few obvious faults of conformation or type." *Serafina was sold in 1960 to Mr. S G Bennett of Georgetown, Ontario and foaled *Bright Gold in 1961. Mr. Bennett continued breeding *Serafina on his Arabian farm and she was later purchased by Mr. Paul Brown in 1970. *Serafina had her last foal in 1972; she lived to be 31 years old and died July 12, 1976.

*Dornaba++ is sired by the incomparable *Naborr. *Naborr is one of 8 World Sires of Significance who have sons who are Sires of Significance. (*Gwalior, *Aramus, Kaborr+++, and Gai-Adventure). In 1954 *Naborr was named Reserve National Champion at the All Union Agricultural Fair in Moscow. (Winner of that class was his sire, Negatiw.) *Naborr sold at age 19 for $150,000 and in 1963 *Naborr was imported to USA by Anne McCormick, traveling on the same boat with *Bask++.

Royale Bay is out of the Mekeel bred mare MHR Port Baja. MHR Port Baja's sire is Port Bask, the leading sire of Champions by *Bask++. Port Bask is pure Polish. He was considered to be the best producing *Bask++ son and was especially known for passing on his extreme athletic ability. Port Bask produced many outstanding show horses such as: Sierra Baskita, US National Top 10 Mare in Halter; Portaleah with Regional wins in English Pleasure and Country English Pleasure; Portallasa, a National Champion producing dam; the Dressage stallion MHR Sabre; MHR Port Macja, listed as the top Arabian mare in the US and the World; MHR Port Giesha, multiple Regional wins in English Pleasure, Park, Sidesaddle and Halter.
Rroyalee's dam is Debbani Al Hadiye. She is 14.2hh with a deep girth and weighing in around 850lbs. Debbani Al Hadiye is an exceptional broodmare, producing outstanding foals far better than she and the stallion she is bred to. Along with her broodmare duties while at Double Starz Ranch in Utah, she was the main riding horse for any new comers to horses or Arabians alike. Her temperament and characteristics are that of the desert Arabians brought straight out of the desert. She is every bit a war mare, always protecting her rider from any threat, and though she is small, she has the heart of a warrior. Debbani Al Hadiye has large black feet, solid dense bone, dry chiseled desertbred features on her elegant face, with the thin black skin so rare in the breed anymore. She was used as an outcross mare while at Double Starz Ranch and did a phenomenal job. She was then sold to Sundance Farm in Oregon and was bred strictly Blue Star while there, preserving her heritage. Debbani Al Hadiye is a Blue Star, Asil, Al Khamsa mare, Tail Male: Jamil El Kebir (APK), Tail Female: *Al Hamdaniah. She is linebred to the desert horses *Fadl, *Turfa and Sirecho.


*Fadl was bred by Prince Mohammed Ali, Manial Stud, Egypt, imported from Egypt to US in 1932 by Henry B Babson, Chicago, Illinois. Sire of 74 registered purebred Arabian foals (34 of which were Straight Babson Egyptians). The stallion *Fadl was used as a Polo pony and as an Endurance mount, besides being a successful show ring competitor in both Halter and Performance, as well as working on the farm pulling the feed wagon and manure spreader. Modern Arabian breeding owes much to the Babson Egyptian imports. The breed's all time leading sire of Champions, Afire Bey V, traces to the Babson stallion *Fadl, as do US National Champion Stallions and influential sires Khemosabi++++//, Legion of Master and Excellence, and Ali Jamaal, multi-National Champion Park Aequus+/, Legion of Supreme Honor, *Simeon Shai+ (the only stallion to ever be named US and Canadian National Champion Stallion and World Champion Stallion), Legion of Honor, multi-National Champion Dressage El Bahim Halawa+, Legion of Honor, and multi-National Champion English Pleasure Empress Of Bask, to name just a few prominent horses who carry the Babson influence. Of *Fadl's 74 registered get, 34 were Babson Egyptian. 11 of *Fadl's get produced National winners. The 6 *Fadl sons who have sired National winners are: Fa-Serr, Fabah, Ibn Fadl, Fa-Turf and Fadheilan (sire of twice US National Reserve Champion Stallion Fadjur, one of the most influential stallions in American Arabian breeding in the 20th century). *Fadl's National-winner producing daughters are Arafay, Fa-Rahna, Dinah, Faaba and Turfara. *Turfa was bred by the Saudi Royal Family (His Majesty King Ibn Saoud) in the Royal Stud at Khorma, Nejd - Central (Saudi) Arabia. Strain: Kuhaylat al-Ajuz, from the stud of Al Khorma in Saudi Arabia. She was presented to King George VI of England as a coronation gift in 1937. Henry B Babson acquired her from the Prince of Wales and imported her into the US in 1941.

*Fadl was by Ibn Rabdan, one of the most popular and heavily used stallions in Egypt. Carl Raswan considered Ibn Rabdan as a "World Champion" type. Jack Humphreys, who selected Arabians in Egypt for W R Brown, described Ibn Rabdan as "almost perfect". *Fadl's dam, Mahroussa, was epitomized as one of the most beautiful mares of her time. Mahroussa was the daughter of Mabrouk Manial and Negma, both classic Arabians of exceptional quality. Mahroussa also produced such horses as *Zarife, *HH Mohamed Alis Hamida, *HH Mohamed Alis Hamama and *Maaroufa, *Fadl's full sister.

Sirecho was regarded by Carl Raswan as having gone down in American-Arabian history as one of the important foundation sires. Also stating that he is one of the few who have become responsible for salvaging the completely PURE Arabian in America from extinction. Because of his acquisition by Mrs. Ott, Sirecho became one of the few sources of Straight Egyptian lines which remains an outstanding outcross for most pedigrees in which more popular Egyptians were used far more frequently and far less judiciously. He was not stood at public stud, Mrs. Ott handpicked the mares bred to him resulting in a relatively small, but high quality band of foals. A family of remarkable longevity, they are also highly prolific, still producing easily into their late twenties. As beautiful as they are athletic, the Sirecho descendants speak for themselves: Joramir 1968 US Top 10 English Pleasure and Native Costume, 20 Class A Halter and Performance Championships; Jora Honey Ku 1978 Canadian National Champion; VP Kahlua 1984 US and Canadian National Champion Mare; AK Sirhalima Australian Leading Sire of Champions; Anchor Hill Halim German multi Champion and Endurance winner; Anchor Hill Omar South African National Champion; Anchor Hill Annah US Top 10 Trail Champion; Ses Khebira Egyptian Event and Salon Du Cheval winner; *Simeon Shai US and Canadian National Champion Stallion, along with such notables as Glorietta Gaazal and Akid Geshan. The black Sirecho granddaughter Shar Gemla is influential in pedigrees of many black show Champions of the Arabians of "The Black Stallion" movie fame.

Sirecho's dam, *Exochorda (also known as Leila II and Marquita in Egypt) was known as a beautiful, powerfully built, and exceedingly correct Purebred Arabian racing mare. Much controversy swirls around her importation, birth date, and even her entries in the RAS. Few, if any, can deny the impact she had on the Arabian breed. *Exochorda was a Saqlawi mare born in Egypt in the early part of the 1920's. A demure mare, she stood only 14.2 hands high and weighed about 825 pounds. Her sire, the stallion known as Aiglon, and her dam, Leila I, were both pure desertbreds who had been imported into Egypt directly from the Arabian desert by private breeders. According to Carl Raswan, both parents were acquired through the Argheyl Muhammed Ibn Marzuki of Bureyda Quasim. All three, Aiglon, Leila I and Leila II, raced in the Purebred Division on the Cairo racetrack, under the scrupulous eye of the Jockey Club Committee, headed by Dr. Branch. Raswan stated that Prince Kemal El Dine "used to call *Exochorda (Leila II) the female counter-part of Mesaoud".

Sirecho's sire, *Nasr, was imported into the US in 1932 by Mr. W R Brown. *Nasr was bred by Prince Mohammed Ali. He was a stunning white bold and powerful stallion.*Nasr had a remarkable racing career in Egypt prior to his importation. Standing 15 hands high and weighing 1,000 pounds, he is recorded as having a girth of 70 inches with 7.5 inches of bone. His foals were exported to countries all over the world, including England, Brazil, Guatemala, Columbia and Venezuela.
**Information of *Carmargue is courtesy of Gari Dill-Marlow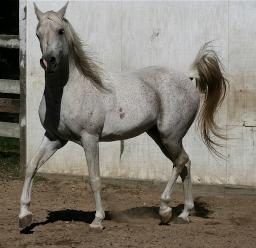 ~ Sire ~
Midsumernitzdream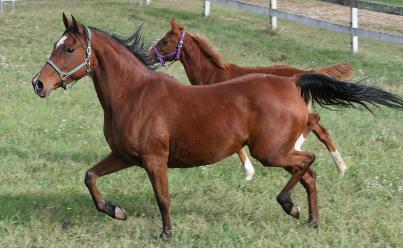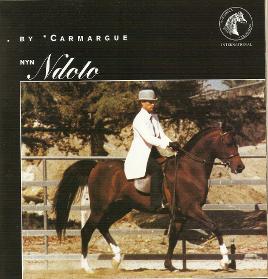 ~ Reference Sire ~
NYN Ndoto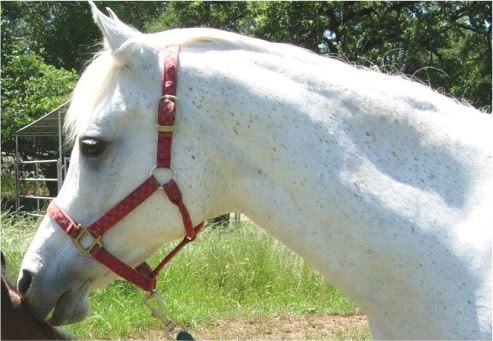 ~ Reference Dam ~
CH Moniet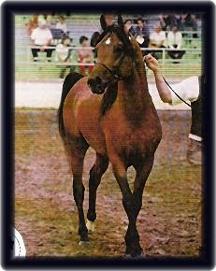 ~ Reference Sire ~
Royale Bay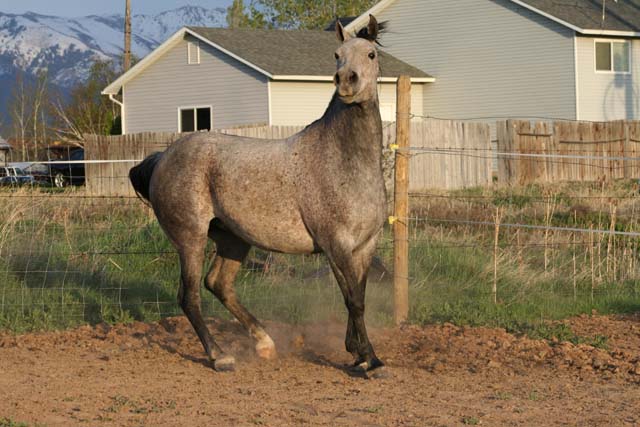 ~ Reference Dam ~
Debbani Al Hadiye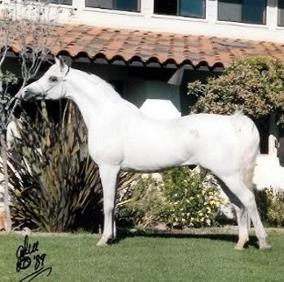 ~ Reference Sire ~
*Carmargue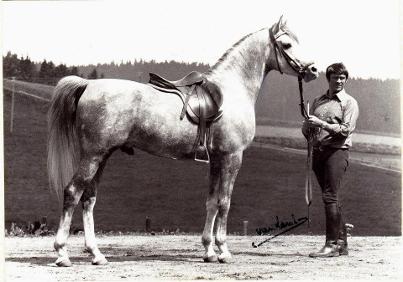 ~ Reference Sire ~
*El Shaklan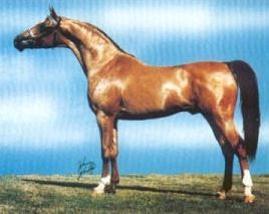 ~ Reference Sire ~
Crown Royale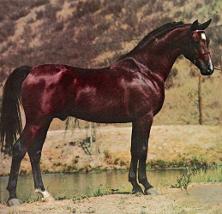 ~ Reference Sire ~
Port Bask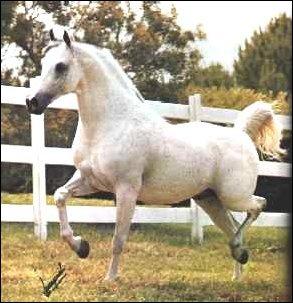 ~ Reference Sire ~
*An Malik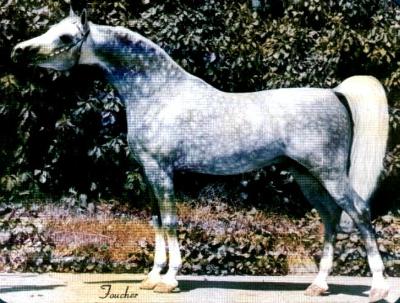 ~ Reference Sire ~
AZH Naborr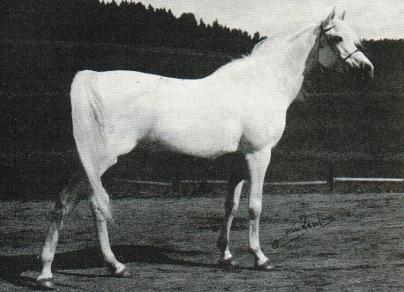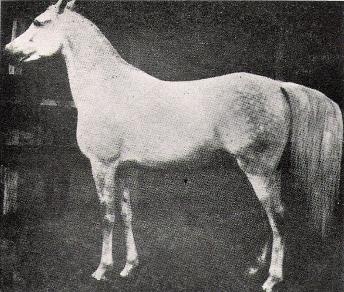 ~ Reference Dam ~
Mahroussa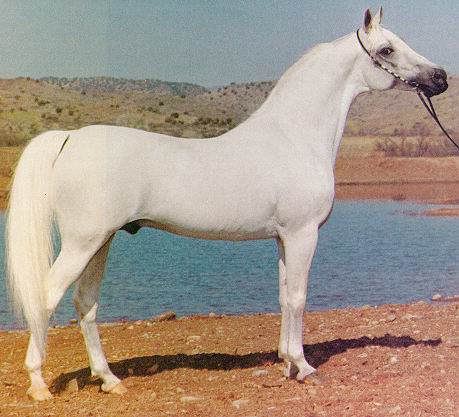 ~ Reference Sire ~
*Naborr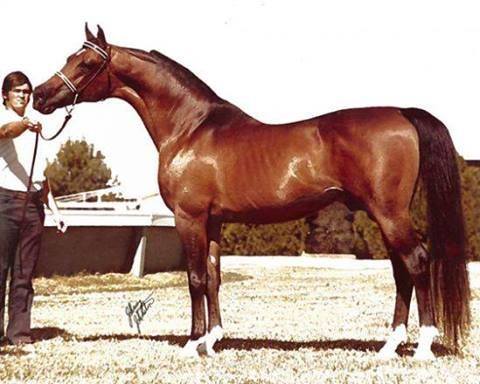 ~ Reference Sire ~
*Bask++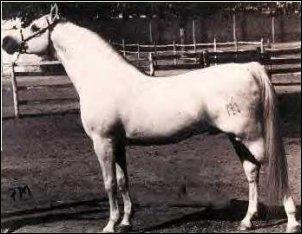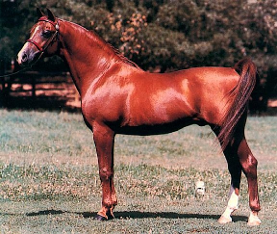 ~ Reference Sire ~
*Barich De Washoe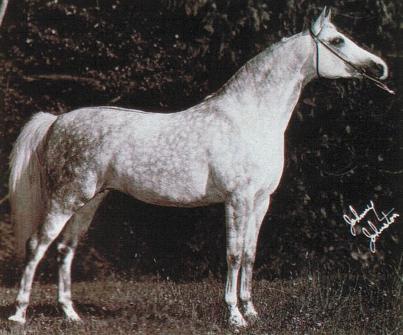 ~ Reference Dam ~
*Dornaba++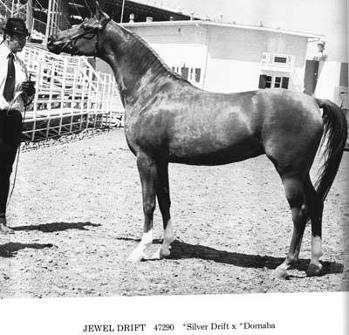 ~ Reference Dam ~
Jewel Drift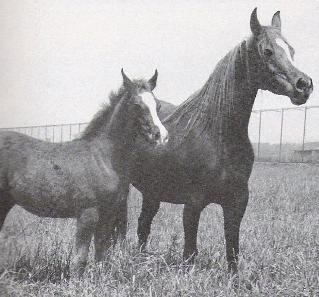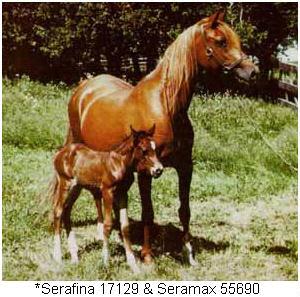 ~ Reference Dam ~
*Serafina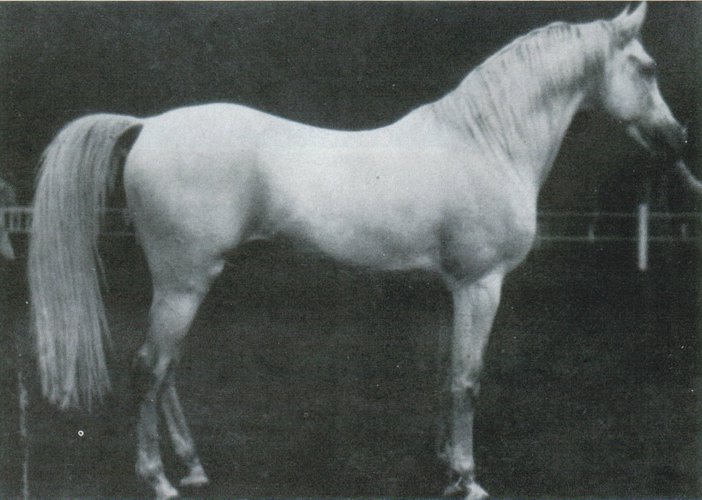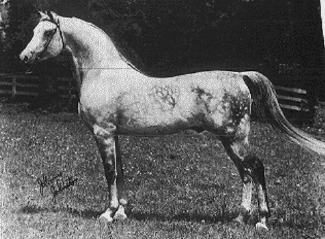 ~ Reference Sire ~
*Silver Drift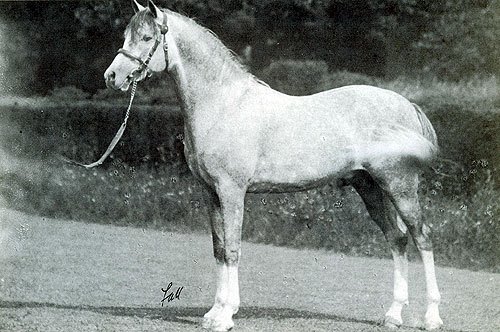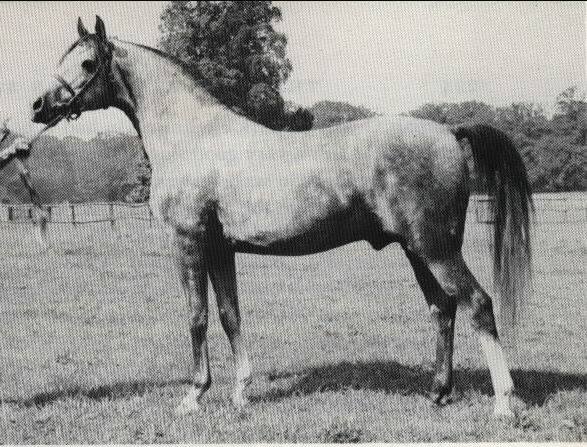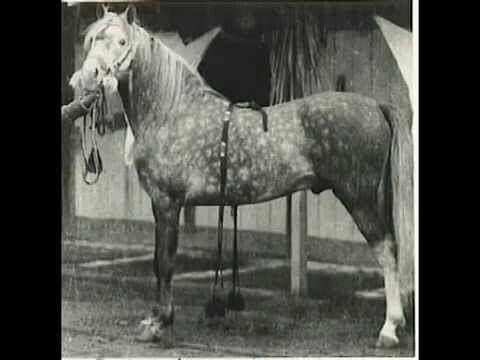 ~ Reference Sire ~
*Raswan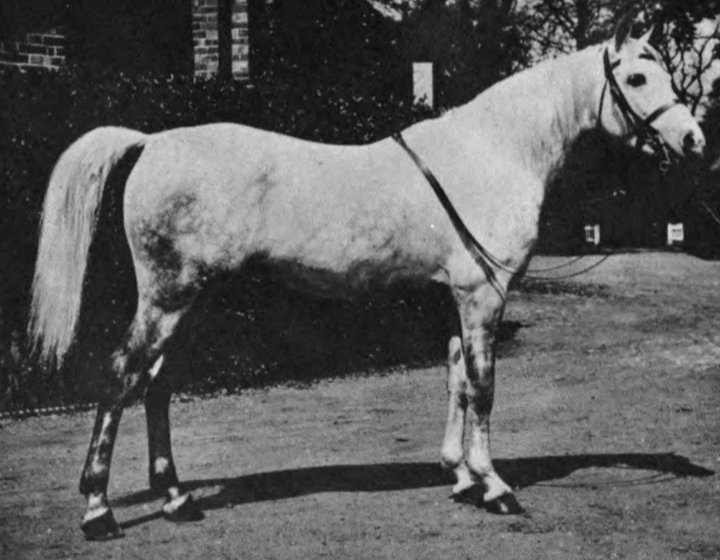 ~ Reference Sire ~
Skowronek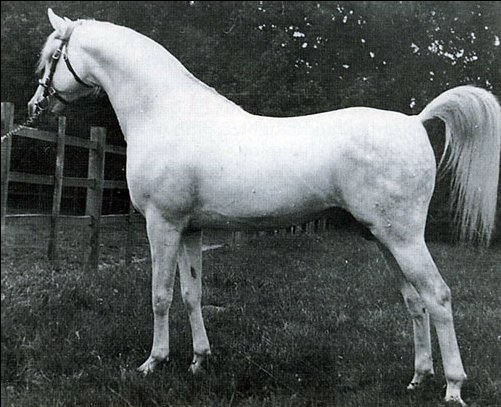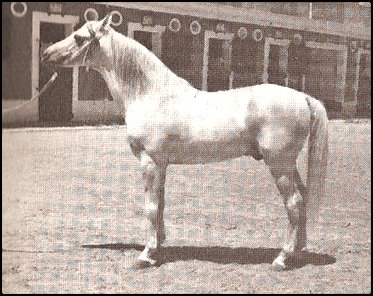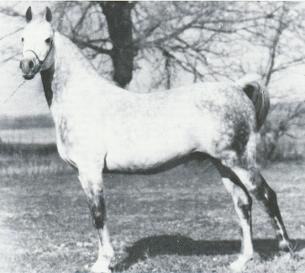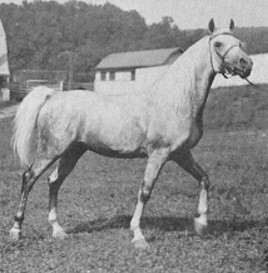 ~ Reference Sire ~
*Raffles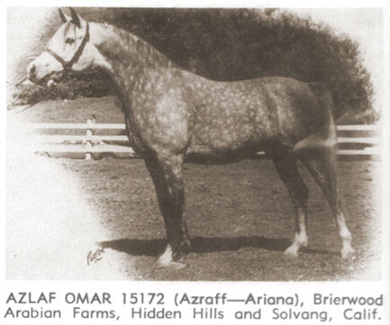 ~ Reference Sire ~
Azlaf Omar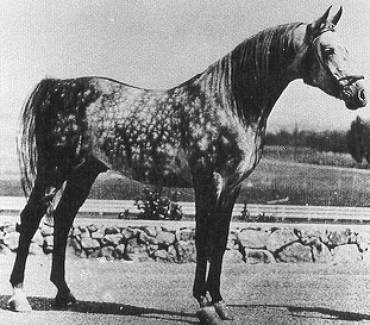 ~ Reference Sire ~
*Raseyn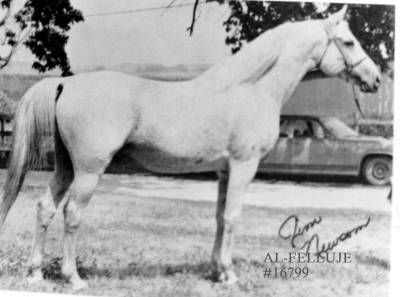 ~ Reference Sire ~
Al-Felluje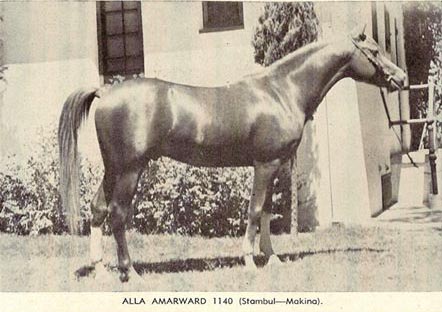 ~ Reference Sire ~
Alla Amarward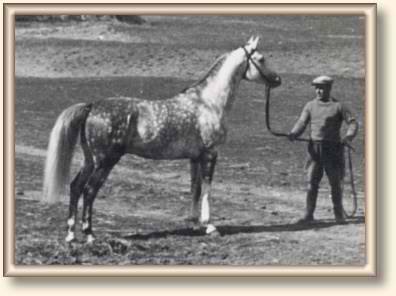 ~ Reference Sire ~
Amurath-Sahib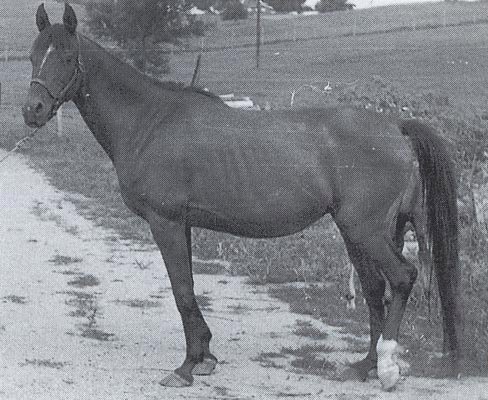 ~ Reference Dam ~
*Azja IV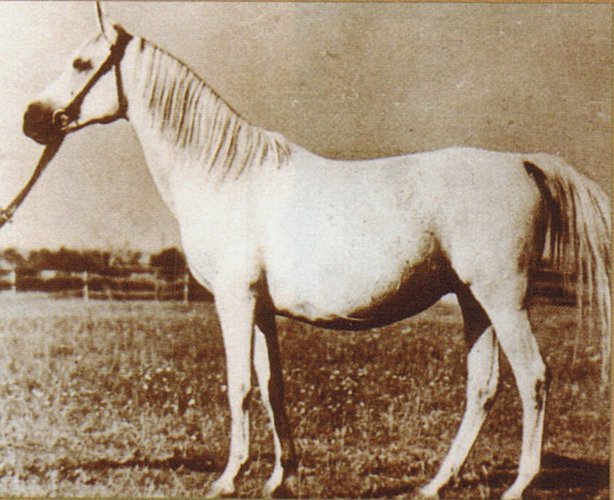 ~ Reference Dam ~
Balalajka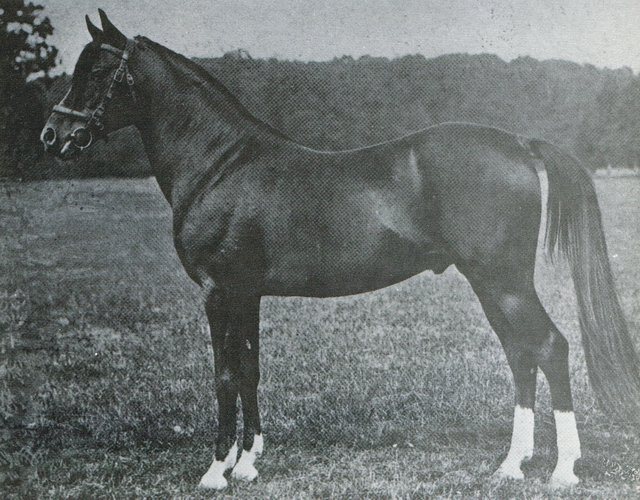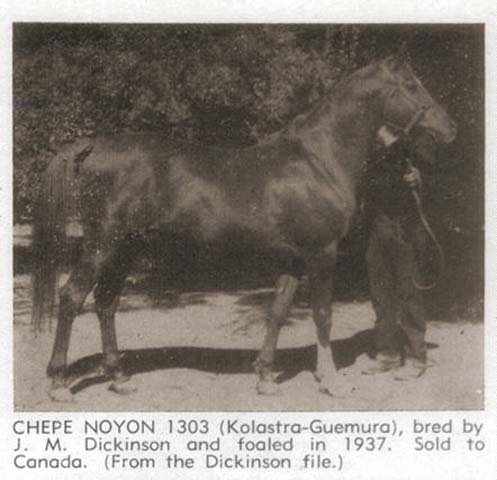 ~ Reference Sire ~
Chepe Noyon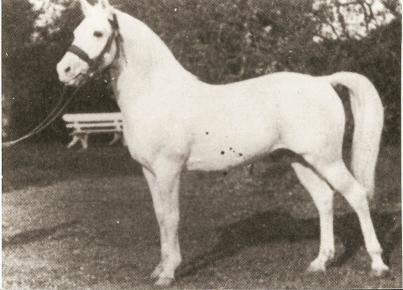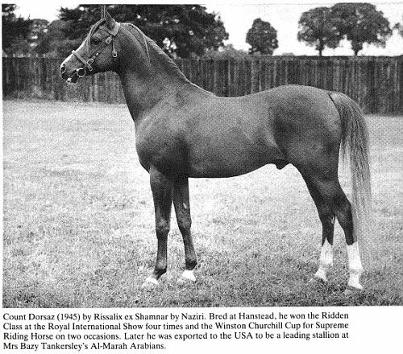 ~ Reference Sire ~
*Count Dorsaz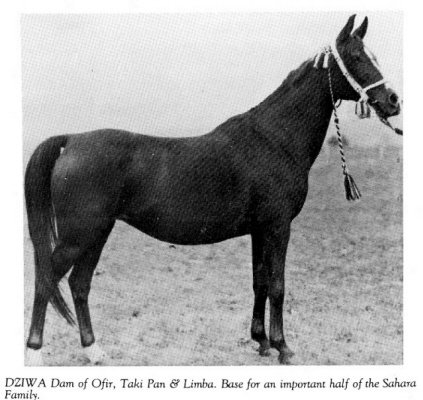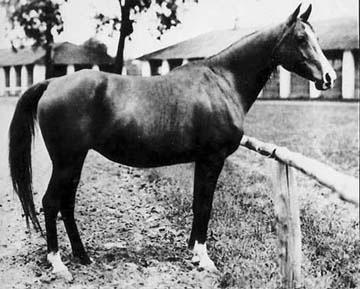 ~ Reference Dam ~
Elegantka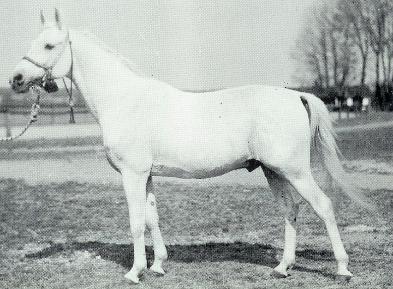 ~ Reference Sire ~
Enwer Bey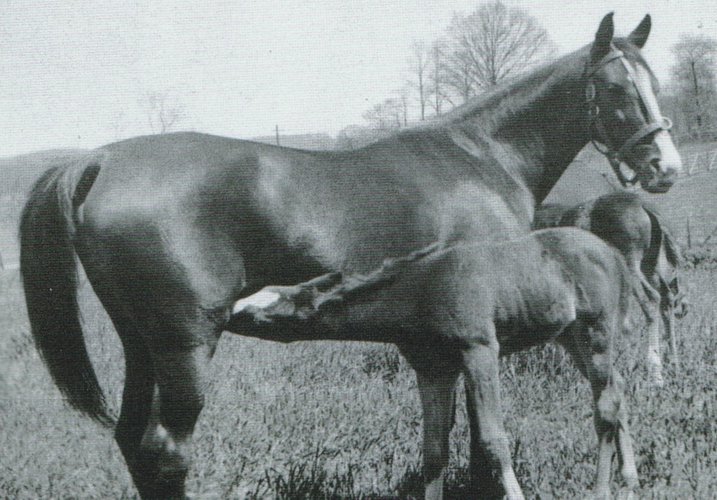 ~ Reference Dam ~
*Exochorda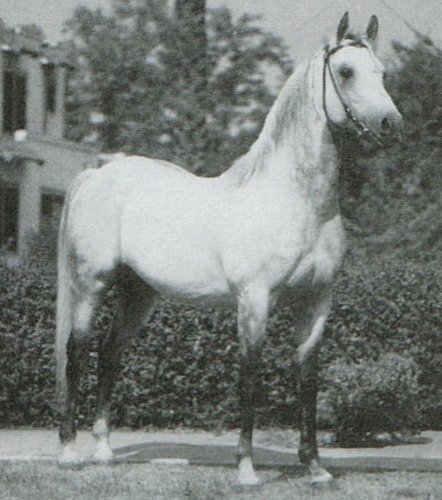 ~ Reference Sire ~
Ferseyn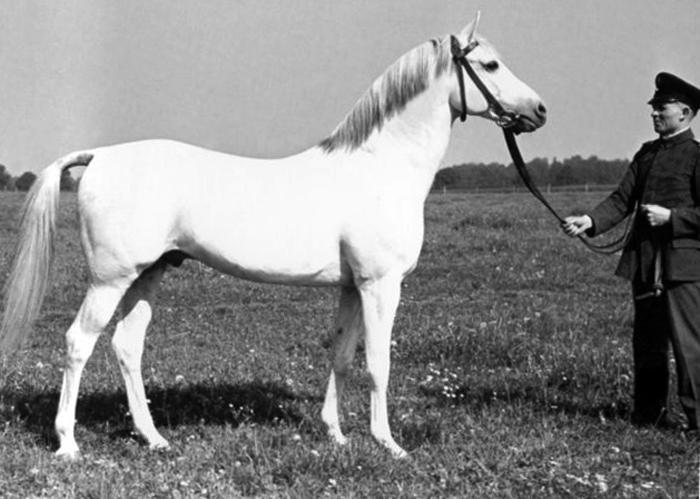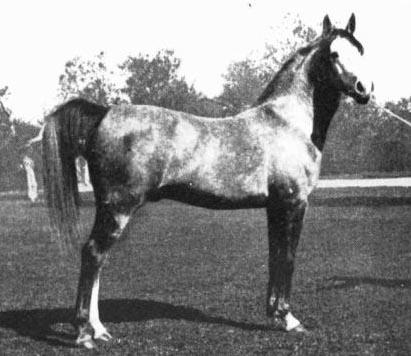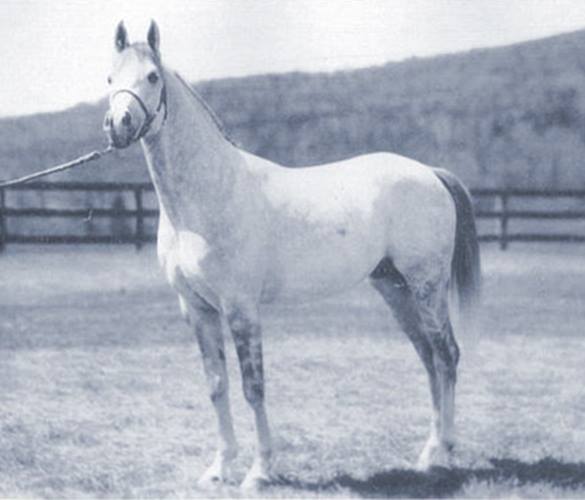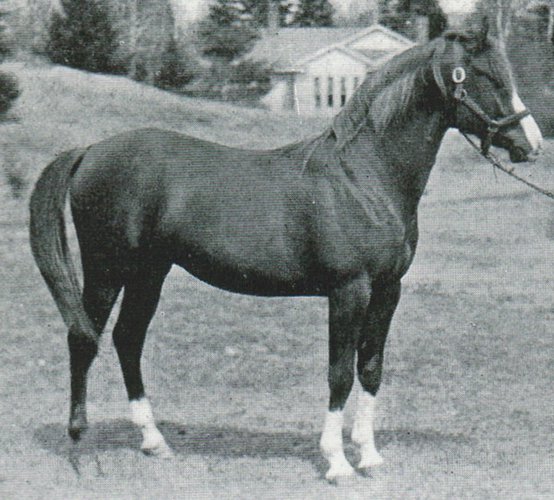 ~ Reference Sire ~
Gulastra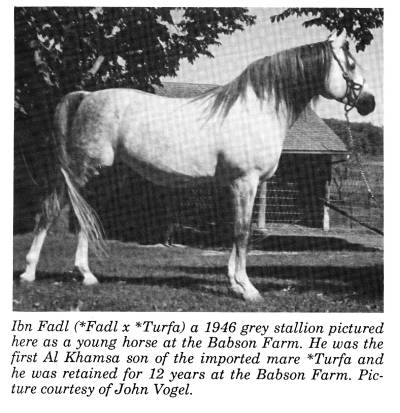 ~ Reference Sire ~
Ibn Fadl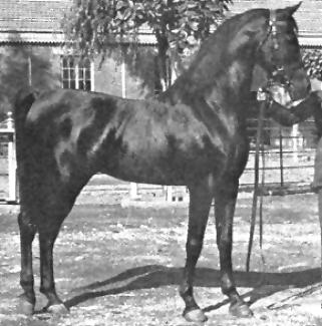 ~ Reference Sire ~
Ibn Rabdan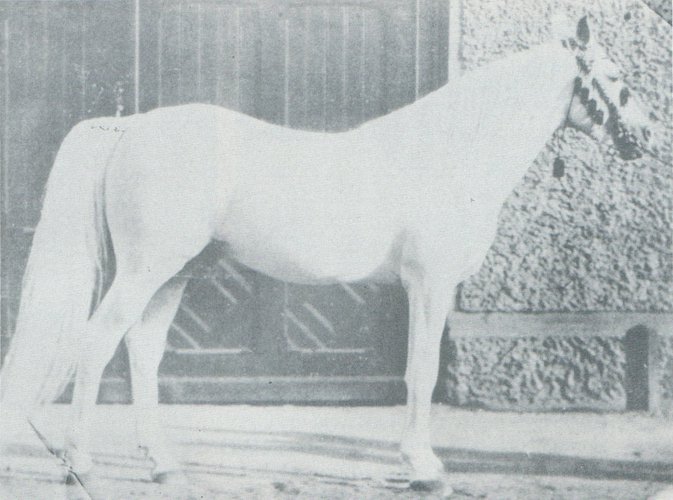 ~ Reference Sire ~
Ibrahim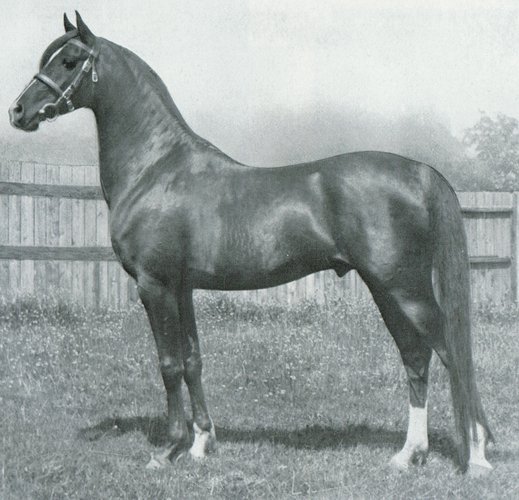 ~ Reference Sire ~
Indian Gold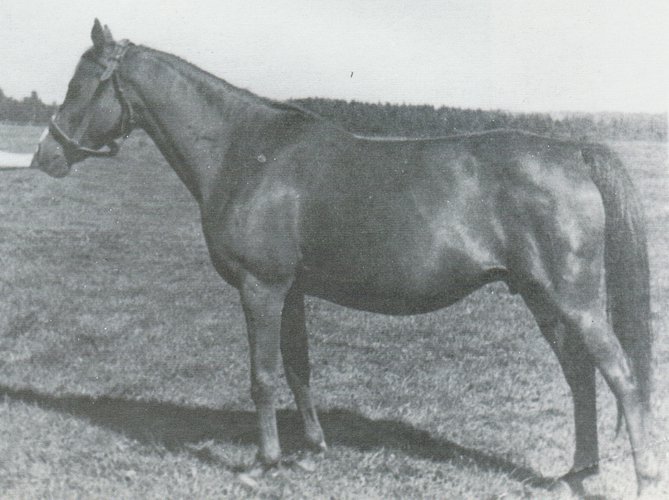 ~ Reference Dam ~
*Iwonka III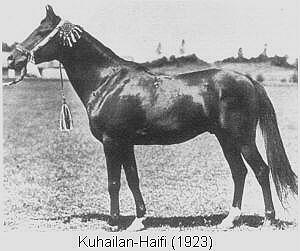 ~ Reference Sire ~
Kuhailan-Haifi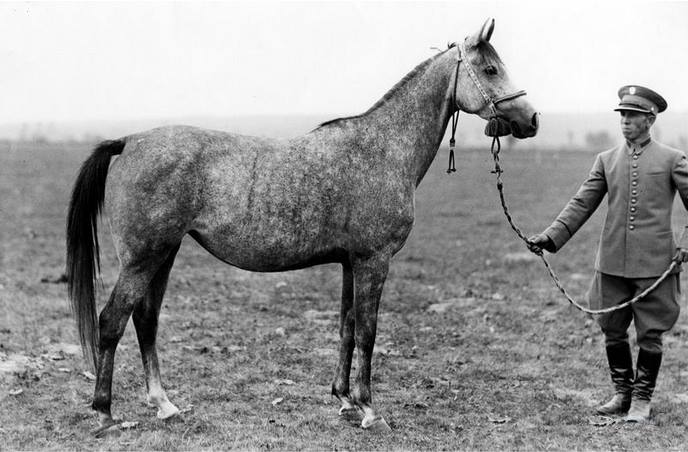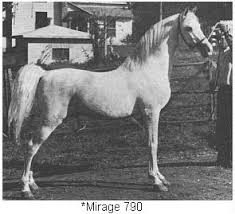 ~ Reference Sire ~
*Mirage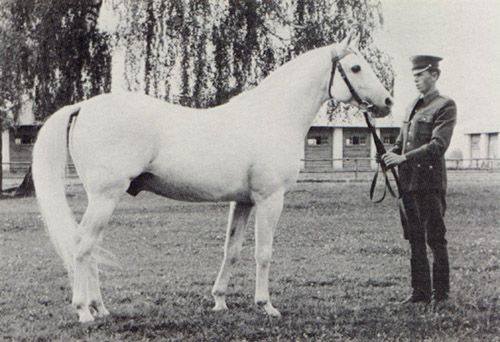 ~ Reference Sire ~
Negatiw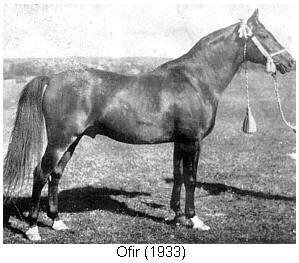 ~ Reference Dam ~
Pomponia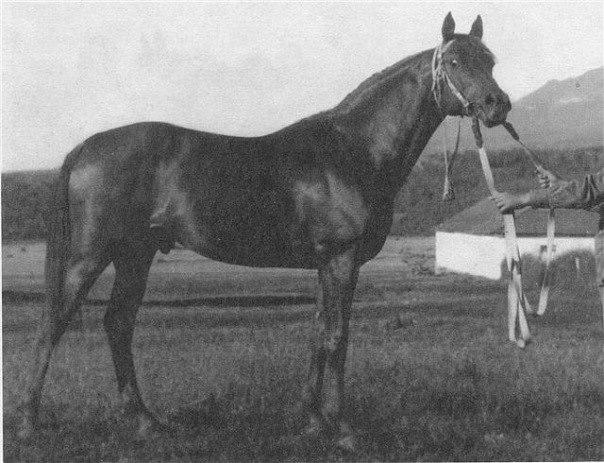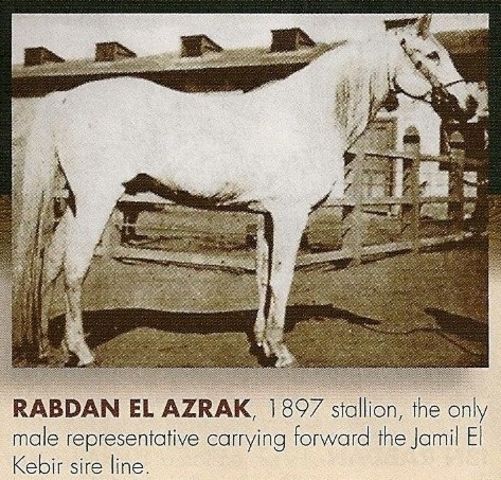 ~ Reference Sire ~
Rabdan El Azrak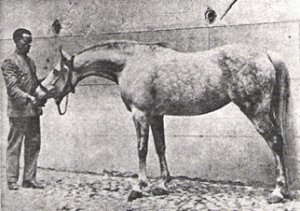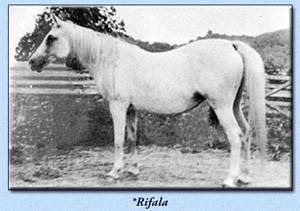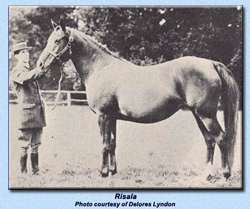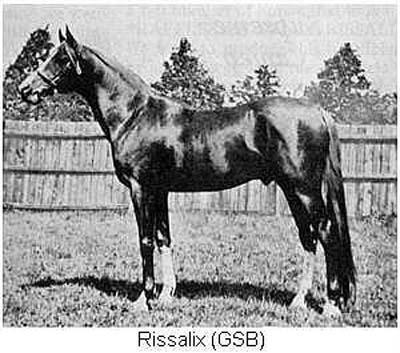 ~ Reference Sire ~
Rissalix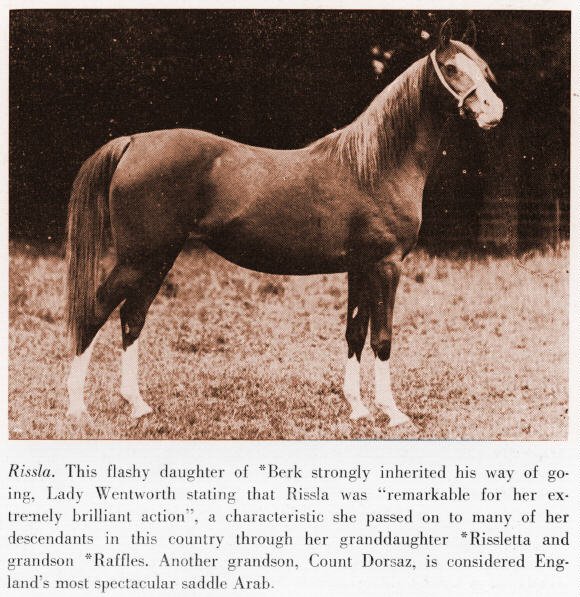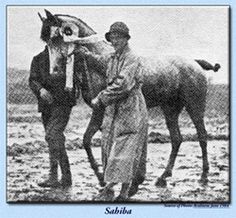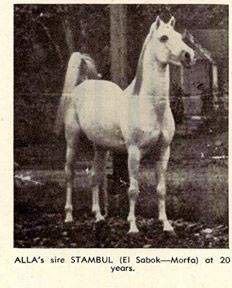 ~ Reference Sire ~
Stambul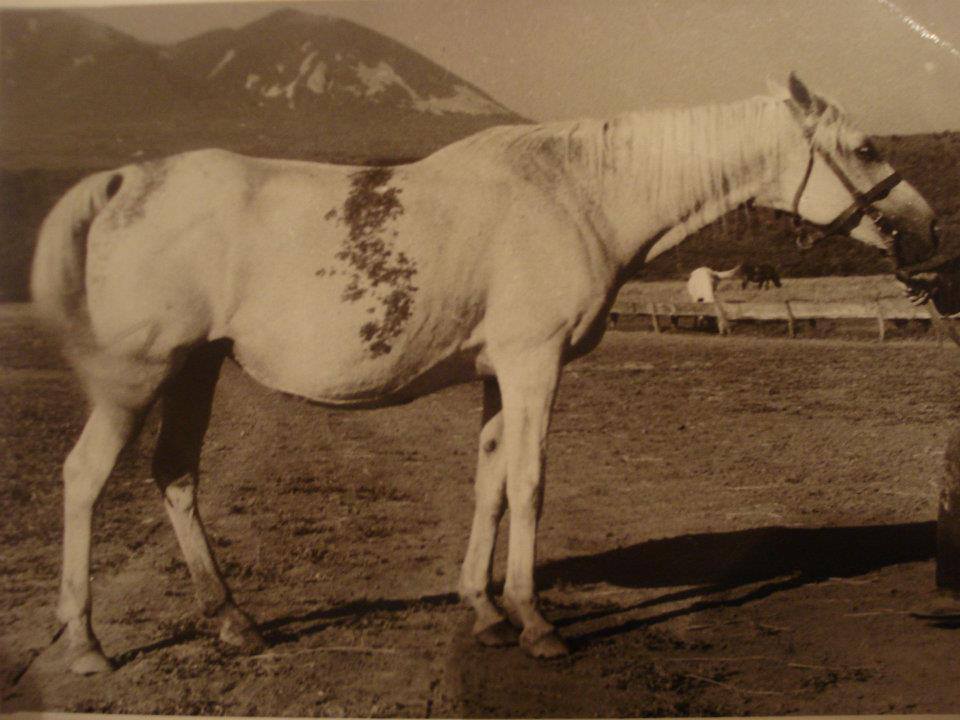 ~ Reference Dam ~
Taraszcza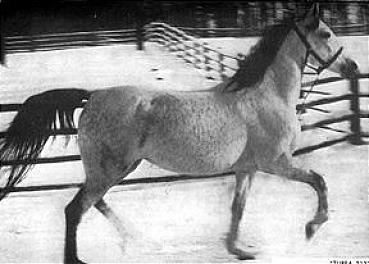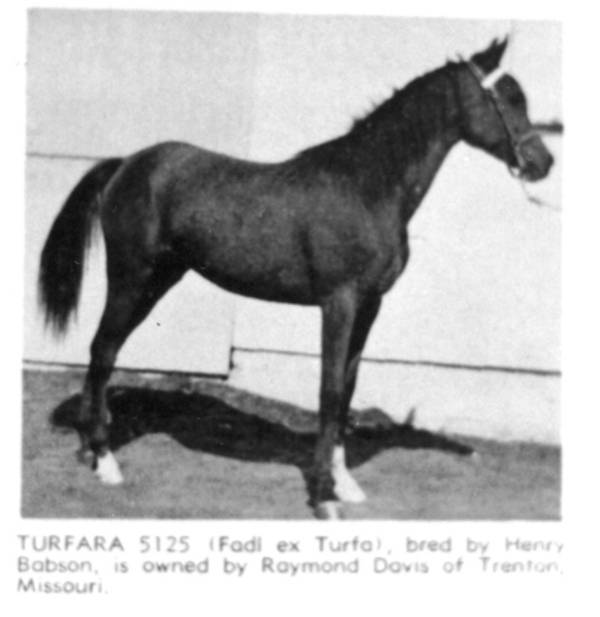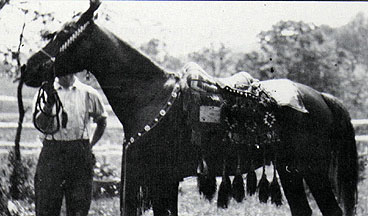 ~ Reference Dam ~
*Wadduda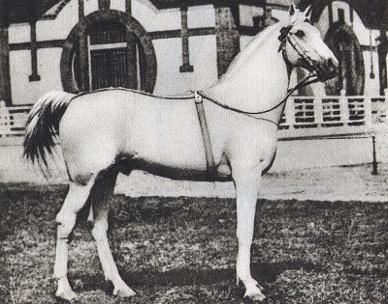 ~ Reference Sire ~
Wan Dyck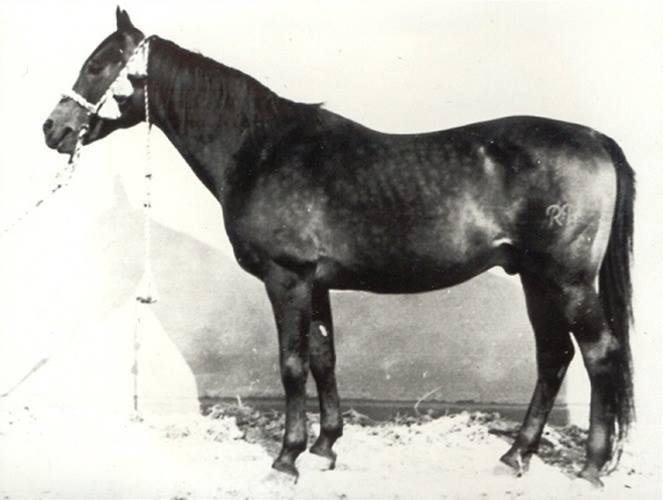 ~ Reference Sire ~
Wielki Szlem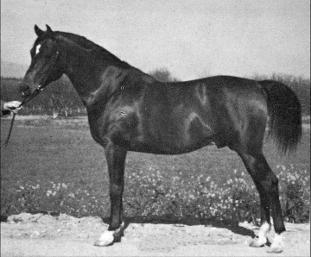 ~ Reference Sire ~
*Witez II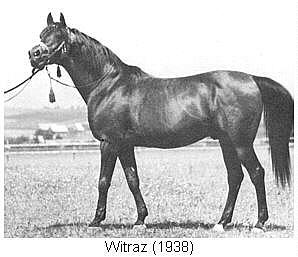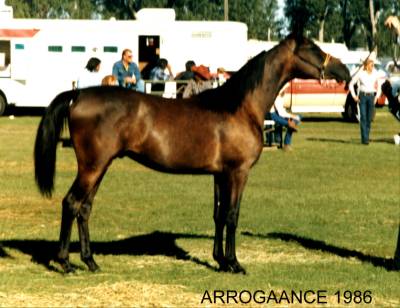 ~ Reference Sire ~
Arrogaance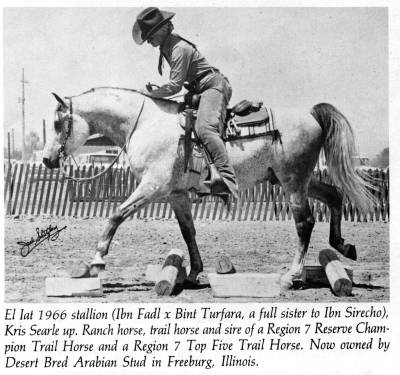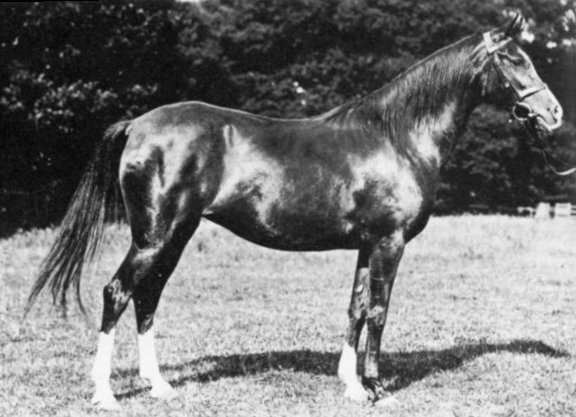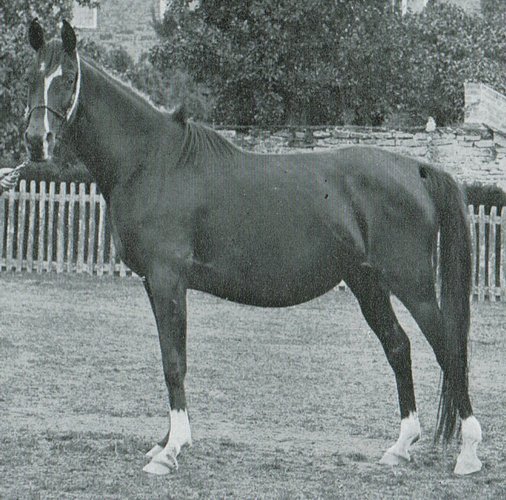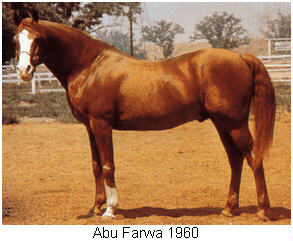 ~ Reference Sire ~
Abu Farwa